Men have thicker skin than women due to the increased androgen and testosterone levels, which give their skin a much tougher texture.  Men's skin also has more collagen, and as the amount of collagen in our skin is directly related to aging, men's skin can often appear younger than a woman's of the same age.  However, men tend to be lazy when it comes to looking their skin.  As a result, this difference in skin age is barely noticeable.
Sunscreen is so important, it is the most effective way to keep skin healthy and looking its best especially if you wish to maintain a youthful appearance. UV light dramatically speeds up the aging process, and can add years the skin's age. When the sun is high like it is now in Cyprus, and the levels of damaging UVA radiation exposure has increased, it's especially important to protect the skin using sunscreen.  Sunscreen should be applied every day – not just when spending a day at the beach.
Here are my sunscreen suggestions for men:
1. Neutrogena® Sport Face Oil-Free Lotion Sunscreen Broad Spectrum SPF 70+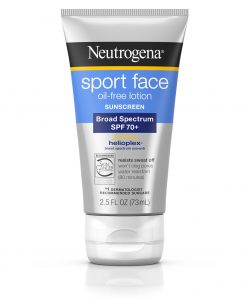 For the sporty man or for the man that spends a lot of time outside, this sunscreen is perfect. 
This sport face lotion sunscreen formula harnesses the power of Helioplex® Technology to provide superior broad-spectrum UVA/UVB protection from the sun. It also resists water (up to 80 minutes), rubbing, sweat and wiping so you can remain active, without the worry of a sunburn.
Non-comedogenic (won't clog pores), Oil-free, PABA-free, Sweat-resistant/water resistant (80 minutes)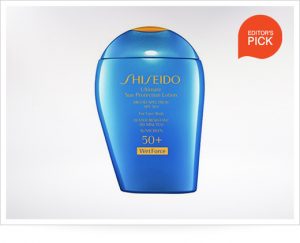 2. Shiseido Ultimate Sun Protection Lotion SPF 50+ WetForce For Face & Body
Most sunscreens lose their strength when in contact with water. This from Shiseido just happens to be more effective when interacting with perspiration, utilising WetForce Technology to create a UV shield that activates within 15 minutes of the applied areas being exposed to water. Shiseido also employs its exclusive SuperVeil-UV 360 Technology to reduce all photo-aging symptoms. Lightweight consistency combined with skin-friendly ingredients keeps skin healthy, nourished and prohibit bacteria from clogging pores.
Formulated for face and body, it's the perfect sunscreen for outdoor sports and water activities.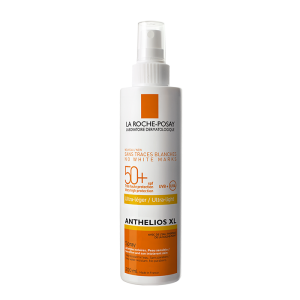 3. La Roche-Posay Anthelios XL Body Spray SPF 50+
This sunscreen is perfect for the most sensitive of male skin types.  Men prone to prickly heat should find solace in the solution's high-broad spectrum protection that repels UVA and UVB rays in effortless succession. Clinical trials have proven Anthelios boasts a high PPD (Persistent Pigment Darkening) factor, along with photostable UVA filters that place it in the upper echelon of skincare protection. The misty texture it produces creates a pleasant shield that's gentle on the skin and sticks to it when soaked in sweat or water.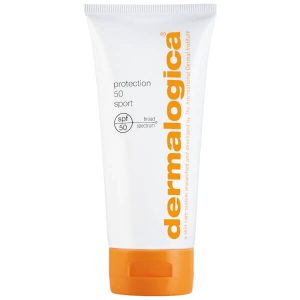 4. Dermalogica Protection 50 Sport SPF 50
Dermalogica's sport sun protection binds moisture and shields skin with a non-greasy composition designed to release antioxidants that combat aging free radicals. No white streaks here and has a gorgeous refreshing summer scent. Licorice extract neutralizes irritation by soothing skin upon UV exposure. Swimmers will also appreciate its water-resistance performance that lasts up to 40 minutes before requiring reapplication.
5. Clarins UV Plus Multi-Protection Sunscreen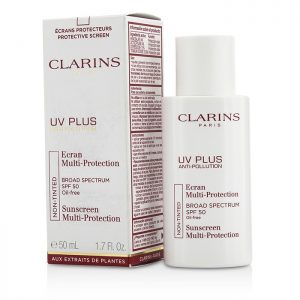 This sunscreen is perfect for anyone with topsy turvy skin and worried about blemish control.  Humidity and sweat causes a variety of facial skincare issues for all skin types. This sunscreen from Clarins uses the Clarins exclusive anti-pollution complex – creating an invisibly powerful shield that safeguards the skin from dark spots and future ageing.  Daily use is suggested to improve skin texture and tone. No grease, no pore-clogging – just long lasting hydration and protection helping to keep skin looking young, radiant and even in tone.
6. Ultrasun Clear Spray Sports Formula SPF 30 & 50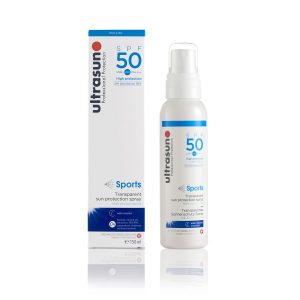 The Ultrasun Clear Spray Sports Formula, available in 30 and 50 SPF, is designed both for ease of application, and to be resistant to sweat and exposure to water. This makes it a perfect sunscreen for those who are active, great for the younger boys of the family who do not want to be seen rubbing in sun protection and great for when you're swimming.  The spray bottle design makes it easy to apply even one handed. It is also perfect for those with delicate skins as it does not contain any nasty oils, emulsifiers or perfume. This cleverly reduces the risk of allergic reaction and makes it great to use on sensitive areas like the scalp where there is perhaps a little less hair then there used to be.
7. La Roche-Posay Anthelios Stick SPF 50+ 15ml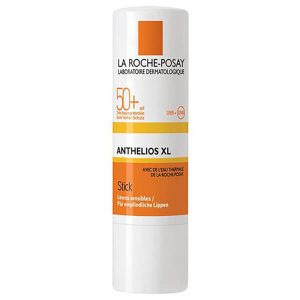 This is very high face and lip protection, SPF 50+ with Mexoplex, Mexoryl XL and Mexoryl SX to provide high broad spectrum sun protection against the harmful effects of both UVA and UVB rays. Men and women both forget to protect their lips.  Skin cancer in this area can be particularly dangerous, which is why everyone needs lip balm with SPF.  Contains Thermal Spring Water. Anthelios products all have a high PPD (Persistent Pigment Darkening) factor as mentioned above, offering one of the best protections against UVA.  Apply 30 minutes before exposure and re-apply frequently and generously every two hours to maintain protection especially after swimming, perspiring or towelling.
La Roche-Posay as a brand use no parabens, no fragrance, 100% hypoallergenic, non-comedogenic and tested on sensitive skin.
If you have any questions, please ask in the comments section below or send me a message.