CMK are my initials, my full name is Christina Maria Kyriakidou.  Born and raised in the UK; both parents of Cypriot descent and now living in Limassol in Cyprus.
I have a degree in Management & Marketing and a Masters in Internet Marketing.  I also have a Postgraduate Diploma in Journalistic Writing.  Having worked in journalism and TV for 15 years in the UK, I was very lucky to be able to try and learn about amazing brands.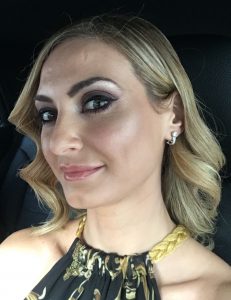 Some of my favourite brands to get us started are Korres, Deciem, Dr. Perricone, Elemis, Decleor, Molton Brown, SBC, Alterna, Tarte Cosmetics, Ultrasun  and there are plenty more!
My life philosophy is for each and every one of us to be the best that we can be and that includes aesthetically. Whether we consciously admit it or not, when we know we look good, we feel even better!
I will share with you my knowledge and industry insider secrets about all things beauty related.  Beauty is my ultimate passion aside from my husband; I read, research, test and search for products that deliver real results.
I look forward to sharing my passion with you and all the beauty secrets I know today and all the beauty secrets, I have yet to uncover.
Thank you for being part of my journey!