I am loving Alpha-H at the moment and it is just what my skin needs. Is your skin particularly sensitive, or does it become easily sensitised? Alpha-H offers concentrated skincare which is formulated to help you defeat the effects of sensitivity. True sensitive skin is genetic however skin sensitivity can occur at any point in our lives and for various reasons.
For sensitive skin types, it is of utmost importance to maintain the integrity of the skin's lipid barrier, which is its defense mechanism. Highly active ingredients may cause damage to the lipid barrier, resulting in further irritation to fragile skin. As such, it is best to avoid frequent use of highly active products when the skin is sensitive, and instead, build a routine that will nourish and nurture the skin. Daily doses of moisturiser and SPF are non-negotiable for any skin type!
On the other hand, sensitised skin is triggered by an intolerance to something it has been exposed to, or by an impaired lipid barrier which could be caused by a range of things, including using products that are too alkaline and put your skin's pH out of balance. Sensitised skin can occur in any skin tone and may present as a rash or irritation. It is helpful to know exactly what you are intolerant to so you can try to ensure you limit your exposure to it.
My Alpha-H 3 Step Routine
Alpha-H Balancing Cleanser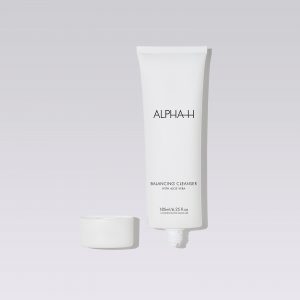 This award-winning balancing cleanser is a creamy three-in-one cleanser that works to correct the skin's natural pH balance, effectively replacing the need for separate eye makeup remover, face wash, and toner. It is rich in vitamin E and aloe vera; vitamin E is well known for its ability to help repair and hydrate skin and neutralize free radicals, while aloe vera rejuvenates and moisturises the complexion.  It is a non-foaming cleanser, free of harsh surfactants, and is suitable for use on all skin types; especially those who have dry, dehydrated or sensitive skin.
Balancing Cleanser is suitable for use in the morning and evening and is both safe and gentle enough for use on the sensitive eye area.
Key Benefits
3-in-1 action
Gentle and safe to use over the eye area
Repairs a stripped and impaired acid mantle
Soothing cleansing milk safe to use on all skin types
Does not remove the skin's naturally occurring oils and moisture
Reduces moisture evaporation from the skin surface
Brings comfort to dry, tight and irritated skin
Key Ingredients
Alpha-H Essential Hydration Concentrate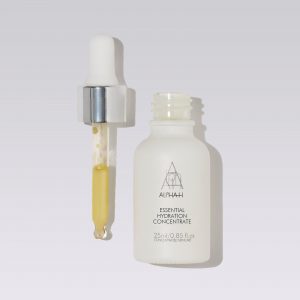 The Essential Hydration Concentrate is a replenishing, preventive treatment oil which re-stabilises the lipid barrier, preserving the integrity of the skin's matrix.
Top Tip
Blend into your day or night moisturiser or body cream for extra hydration
To find out more about this gorgeous product, click here.
Alpha-H Essential Hydration Cream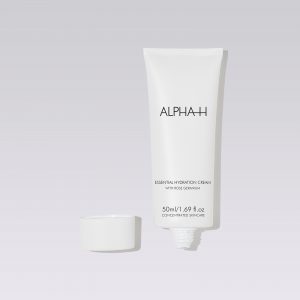 This essential Hydration Cream is an aromatic, soothing cream formulated with a unique blend of the finest essential oils, bio-active sea minerals, and essential fatty acids to replenish and revitalise parched skin while aiding in moisture retention for longer lasting and more sustainable hydration.
It is a non-Glycolic formula and combines a range of soothing and healing ingredients to bring immediate relief and comfort to dry and irritated skins. This calming cream is great for those with broken capillaries, diffused redness, skin sensitivities, and inflammation. It is also suitable to help calm rosacea, eczema, and dermatitis-prone skins.
Water is essential for cellular life, so a well-moisturised skin with properly functioning cells is both healthy and younger-looking. If the skin has been damaged or irritated, leaving its lipid barrier impaired, it cannot begin to heal until such time as the lipid barrier is repaired and moisture loss is stopped. The Essential Hydration Cream can help to heal and return balance to the skin's lipid barrier by nourishing and protecting dry and delicate skins.
Arnica, Cypress, Malt and Solomon's Seal combine in a powerful anti-redness complex which provides anti-inflammatory properties, whilst also strengthening the walls of the capillaries to diffuse redness in the skin.
Antioxidant and well-known reparative agent Vitamin E protects the skin against oxidative damage, as well as adding its anti-inflammatory properties.
Bursting with essential fatty acids, Evening Primrose Oil helps to prevent moisture loss through the skin, and boosts its barrier function and collagen production, while Jojoba Oil rejuvenates the skin, leaving it feeling soft and supple.
High in trace minerals, calcium, manganese, zinc, and magnesium, Red Algae Extract contains highly concentrated micronutrients which help the skin to metabolise vitamins and activates the skin's enzymatic processes.
Rose Geranium adds not only a beautiful calming scent but also has anti-fungal properties.
Soothing, calming and luxurious, Essential Hydration Cream is ideal for anyone who wants to repair and rejuvenate their skin, and an excellent addition to any routine to help maintain hydration for a youthful and healthy glow.
Key Benefits
Nourishes, protects and repairs sensitive, dry and delicate skins
Contains ingredients designed to reduce redness and rebuild broken capillaries
High in essential fatty acids and essential oils to soothe and heal the skin
Protects elastin and collagen fibres whilst promoting healthy collagen production
Antioxidants neutralise free radicals and promote a healthy complexion
Key Ingredients
Rose Geranium
Arnica
Solomon's Seal
Cypress Berries
Coral Seaweed
Jojoba Oil
Evening Primrose Oil
Vitamin E
Malt
My Opinion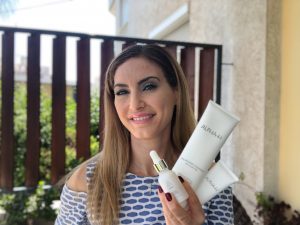 I have been really struggling with my skin over the summer. The hot weather has caused skin rashes, dehydrated skin, bacterial infections, acne, sunburn, pigmentation, and broken capillaries which when they dilate cause redness. Thankfully, I have found my solution and my skin is looking and feeling so much better thanks to these products from Alpha-H.
If you too are struggling like me then try the following:
Be mindful of the products you are using on your skin.
Daily SPF is crucial to prevent damage, burning, skin cancer, and the breakdown of that important elastin but select one suitable for sensitive skin.
Use moisturiser underneath your SPF to hydrate the skin.
Exfoliate but do not go overboard.  Once a week is enough during the summer.
Drink lots of water.
If you have any questions, please send me a message.