Baby Kyriakidou 8 Months
First Time Mum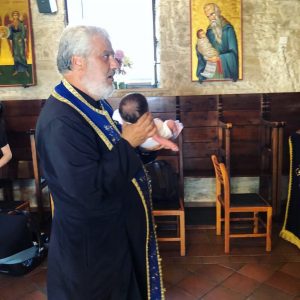 It feels like yesterday when I was in Dr Marios Liasides' clinic, having my baby girl and now she is 8 months old.  The month of May will be a very special month as #babykyriakidou is to be christened on the 26th.  I am a very sentimental woman and I feel a rush of emotion knowing that my daughter will be christened in the same church I married her dad.  Pater Michalis was a rock to me during my pregnancy and since then checks in on the baby and I regularly to see how we are getting along.
Living With A New Born
Sleep
Athina-Eleni is a good sleeper overall.  On average, she is sleeping around 10 hours per night and only wakes me up when she has lost her dummy.  I must look like a zombie wandering from my bedroom to hers and back during the night but overall, I can not complain.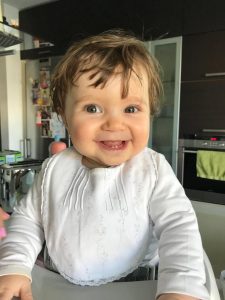 Diet & Nutrition
We started food weaning at 5 months.  I was and am still a little nervous about it.  There is so much conflicting information – portion sizes, whether to mix food or not, and which foods to introduce and when.  It has been 3 months, I am still learning and often still a little unsure of what I am doing.  I do have stock of Hipp Organic jars to use when on the go.  I also like to mix them in with my home-made food to ensure that she is getting as many nutrients as possible.
Since I have stopped breastfeeding, Athina-Eleni drinks Hipp Organic Follow-on Milk no.2 first thing in the morning and last thing before bed.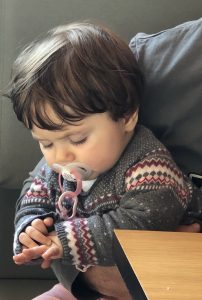 First Words
I am over-the-moon and will always cherish the fact that my baby girl's first word was "Mama."  Since then she is now saying "Baba," "Dada" and has recently said "Yiayia."  She has learnt to wave and tries to say bye-bye when her Daddy leaves for work.  It sounds more like a "Ba" at the moment as she waves her hand vigorously but she will say it correctly soon I am sure.
Favourite Toys
Any teddy bears with big round faces seem to be Athina Eleni's favourite but she plays with everything and anything.  Everything goes straight into her mouth so I have stopped buying items that can not be cleaned or thrown into the washing machine.
Bath Time
Athina Eleni loves bath time or "splish-splash" as I call it.  She kicks her legs like an athlete in the making and plays with her US Open themed rubber duck given to her by her uncle Nick.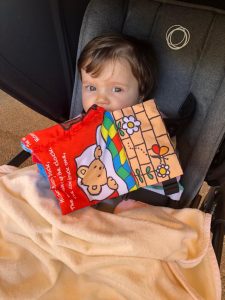 Getting Around
The older Athina Eleni is getting, the easier it is to get around.  My daughter loves being out the house so as soon as she sees me packing her baby bag, she starts kicking her legs in excitement.
Nursery Rhymes
I play both English and Greek nursery rhymes to Athina Eleni.  Most mornings when I am getting ready for work, I play them to her and sing along.  She sings and dances along in her own unique way.    It is one of my favourite times of the day with her.
Work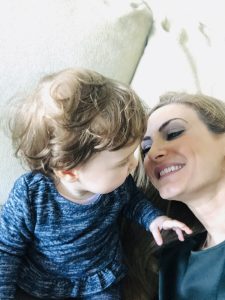 I am working now full time, and I try to write around the baby; mostly at night when she is asleep.  It feels great to spend the day with adults and feel my brain working but I equally look forward to going home to see my beautiful daughter's face and that smile, when she realises that mummy is home.
How Do I Feel?
I fall more in love with her day-by-day.  I am enjoying her even more now that she is a little bit older and responsive.  I sing to her, I dance with her, I play with her.  It really is the best feeling in the world!    
If you have any questions, please send me a message.