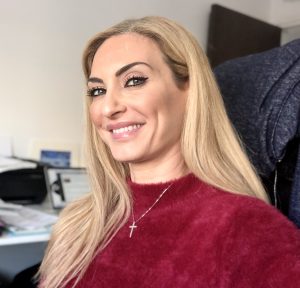 I do not make New Year's resolutions.  For the most part, I review my routine weekly and try to make every week count.  With beauty and skincare more specifically, the skin has a cycle.  The outer layer of the epidermis consists of dead skin cells which is why we need to exfoliate regularly to help clear the debris.  It takes around 28 days for our skin cells to renew.  As we grow older, this skin cycle slows down to 45-60 days in our 40s and 50s.  It is important that whatever skincare routine we embark upon for 2020, that we allow at least 28 days of using a new product to see results.
This year, we should all strive for healthy, brighter-looking, makeup optional skin. It is possible for everyone and I wish you all the BEST skin yet for 2020!
Skincare Habits for 2020
Here are my suggestions for 2020 on how to achieve skin we love:
Apply Broad Spectrum SPF Daily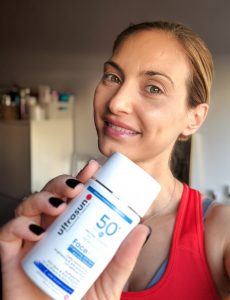 Sun damage is one of the top skin aggressors. Make this the year that you apply daily Broad Spectrum SPF 30 or higher to help prevent premature signs of ageing.  Daily SPF prevents wrinkles, fine lines and dark spots from appearing and lowers our risk of developing skin cancer.  There are plenty on the market but my SPF of choice is Ultrasun.  It is a once-a-day formula providing long-lasting, high level, water-resistant protection from UVA (ageing), UVB (burning) and infrared – A rays.
Double or Triple Cleanse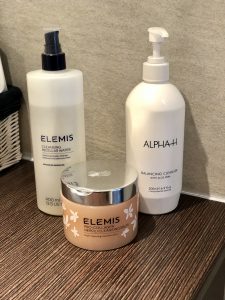 Our daily skincare routine should always include cleansing twice a day, every morning and evening. Using a good quality cleanser can make all the difference to our skin.  This time of year in the evenings, I triple cleanse to boost my skin further.  To do this correctly and without stripping the skin requires the correct mix of cleansers.  I use the Elemis Cleansing Micellar Water to take off my makeup, follow with the Elemis Pro-Collagen Neroli Cleansing Balm, really massaging the balm into my skin. I allow it to sit on my skin for a few minutes while I brush my teeth and once removed, I follow with the Alpha-H Balancing Cleanser.  This 3-step cleansing routine makes my skin glow and keeps it in perfect balance.
Respect The Neck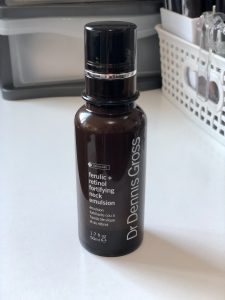 Since the neck is often neglected in many skincare routines, it's one of the first areas of skin to show signs of ageing.  I am currently using Dr. Dennis Gross Ferulic + Retinol Fortifying Neck Emulsion twice daily.  It is a quick-absorbing collagen enriched emulsion that strengthens and firms the unique, much thinner skin under the chin, jawline, and gives bounce back to the skin.  If you are looking for a more lifted, supple, younger and healthier neck appearance, the neck emulsion from Dr. Dennis Gross is a MUST!
Drink More Water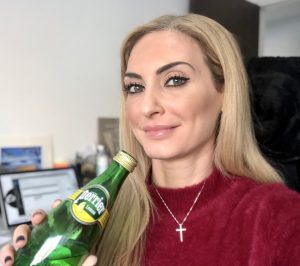 Dehydration can not only take its toll on our body, but it can cause your skin to appear less plump and fresh. We can all benefit from drinking more water.  I know it is much easier to drink water in the warmer months and yet, it is imperative to drink lots of water all year round. I have developed a taste for sparkling water recently and am loving these handy Perrier bottles with a choice of lemon or lime.  I drink both daily!
Exfoliate
Our pores need weekly maintenance sessions and ideally twice a week. Facial scrubs and AHA formulas all work to remove a buildup of dead skin cells that could be causing a dull, lackluster skin appearance.
Make Time for Yourself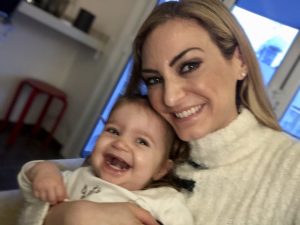 We are all very busy people these days but it is essential to find ways to relax, unwind and make time for us! This is probably the hardest habit to create and keep, for me included. Make time in the day to calm the mind and the senses; this may include having a soothing bath, reading a book with a glass of wine, going out with friends or going for a nightly run. The more we do to relax the mind and cancel out the stressors in our lives, the better we all are in creating a happy and healthy new year.
If you have any questions, please send me a message.