Argan Oil is Liquid Gold For The Skin
Give Your Skin The Tree of Life From Morocco
Although I have not been to Morocco, it is on my wish list.  If you have been then there is a good chance you bought at least one bottle of Argan Oil.  There are various levels of purity as with any oil but when you find pure Argan oil, there are so many skin and health benefits that this majestic oil can provide.
What is Argan Oil?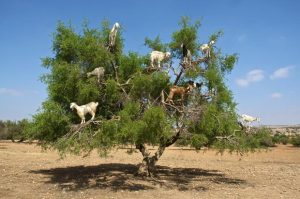 Argan oil, is a plant oil produced from the kernels of the "Tree of Life," the Argan tree (Argania Spinosa L),  grows exclusively in Morocco and the locals use the nuts' oil to heal ailments and beautify themselves. The nuts are so nutritious, even goats climb the Argan Tree to eat them and the Argan Forest was declared a Biosphere Reserve by UNESCO in 1998. The oil, which is said to have restorative and age-defying effects, has become one of the latest miracle natural ingredients in the beauty industry. Cult favourite, Josie Maran Cosmetics, for example, use Argan oil as a key ingredient in all of its products.  High in vitamin E and essential fatty acids, it is believed to help all sorts of skin conditions: dry skin, acne, psoriasis, eczema, wrinkles. Moroccans slather it on their skin, hair, nails and even their babies. They eat it too, drizzling it over salads and couscous, or using it to make Amlou, a mixture of Argan oil with almonds and honey. Amlou is usually served for breakfast or afternoon tea with pancakes and pastries.
What are the Skincare Benefits of Argan Oil?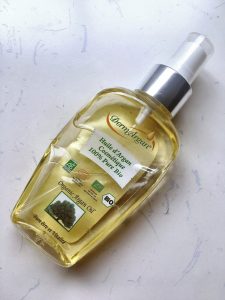 In Morocco, more traditional skincare benefits of applying Argan oil topically are:
Protect against and heal skin infections
Clear up acne
Ease eczema
Help recovery from chicken pox
Heal cracked, roughened skin and burns
Here are some of my favourite skincare benefits of applying Argan oil:
Skin Hydration – Argan oil is a fantastic skin moisturiser, it hydrates and creates baby soft skin. It is high in vitamin E and fatty acids, which makes Argan oil the ideal product to give our skin a natural boost and provides intense hydration. It absorbs easily, is non-greasy and non-irritating, which makes it a great natural deep moisturising treatment for face, neck, decollete and body.  Simply smooth a few drops into the skin and gently massage.
Heal Acne – Some oils and moisturisers can exacerbate skin conditions such as acne, Argan oil actually soothes the skin and promotes healing. Acne is often the result of oily skin. Since Argan oil is non-greasy, it helps to balance skin by providing natural moisture. Argan oil also contains antioxidants which help to heal damaged skin cells and reduce inflammation. The triterpenoids and linoleic acid naturally found in Argan oil offer amazing results on scarring, reducing inflammation caused by acne while helping to heal skin cells that have been damaged. If I get any spots, I like to mix my Argan oil with some Tea Tree Oil to help soothe and disinfect the area and it really helps my skin to  clear it more quickly.
Anti-Ageing – Argan oil gives skin a youthful glow, a hydrated appearance and reduces the visibility of wrinkles. Its antioxidant effect makes Argan oil the ideal anti-aging product. It restores elasticity and leaves skin feeling plumper and softer.  I mix a few drops into my moisturiser morning and night.  In the evenings when I have more time, I like to add even more drops and take my time and really massage into my skin and I even take it around the orbital bone to moisturise the delicate eye area.
Stretch Mark Prevention – The healing power of Argan oil can be used to prevent stretch marks from pregnancy, or from rapid weight gain by softening and strengthening skin. It works by helping to improve the elasticity of the skin and keeping it hydrated, which makes stretch marks less likely to form. Apply it by warming a few drops in the palm of your hands and gently rubbing it onto areas like the hips, thighs, and stomach where they're likely to develop.
Repair Split Ends and Brittle Hair – Argan oil seals in moisture and smooths flyaways, making hair more manageable and less prone to breakage from brushing and styling. Argan oil can also help to seal in hair colour, increasing the length of time between colourings. Rich in Vitamin E, Argan oil nourishes hair, repairing split ends, and increases hair's shine and overall healthy appearance.  If hair is very dry and brittle, apply up to 10 drops and use as an overnight deep conditioning treatment to leave hair soft and moisturised.
Repair Dry & Cracked Heals & Feet – Argan oil can help repair feet. Apply a few drops to feet, paying close attention to any rough areas. If kin is very dry,  add more drops in order to completely moisturise them. Afterwards, don't rinse. Leave the oil on and apply a pair of socks over the top so that the oil can soak in. Leave them on for at least 30 minutes, and ideally, overnight. Feet look and feel amazing in the morning!
Strengths Nails – Argan oil helps to promote stronger, healthier nails naturally, thanks to its high levels of vitamin-E. Apply to nails on hands and feet.  The antibacterial and anti-inflammatory qualities of Argan oil may also help to fight any nail and skin infections.
Skin Soother – For anyone with irritated, itchy, eczema, psoriasis or sun damaged skin, the antioxidants found in Argan oil help to soothe and heal the skin, alleviate any skin inflammation and helps speed up skin recovery.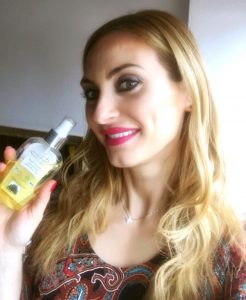 My Opinion
I love my Argan oil.  I add a few drops and mix it in with everything. I only buy Argan oil that is 100% pure which means that it is safe to use on face and body and completely versatile.  It truely is a miracle oil when bought in its pure form and can be used on the whole family.
If you have any questions, please send me a message.