Clarins Maternity Body Survival Kit
Pregnancy Care with Clarins

I will share with you lots of articles on how to look after ourselves during pregnancy including skincare and body care.  Today I want to look at how to look after our ever changing and expanding pregnancy body.
I am trying different ranges throughout my pregnancy but I started with the range that was most recommended from friends, family and even my Doctor, Clarins.  Clarins is one of the best selling prenatal body care range. 
I have always looked after my body through healthy eating and exercise.  When I found out I was pregnant, my initial thought was I need to taken even better care of my body to keep the stretch marks at bay.  Stretch marks must be one of the most talked about skin changes during pregnancy and I am told that almost 90% of women experience them one way or another.  By using the right products like treatment oils and stretch mark control creams during pregnancy can help prevent or reduce the appearance of those unwelcome lines.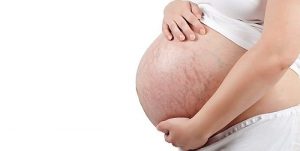 What is a Stretch Mark?
Stretch Marks are caused by excessive stretching and ruptured elastic fibers within the dermis. They are not physically dangerous but can cause self-image problems and body anxiety.  At first they are purplish-pink and then they become pearly white and permanent. They can occur during pregnancy but also during adolescence, whenever rapid growth takes place.
Stretch marks can appear on the tummy, hips, waist, buttocks, thighs and breasts.
Unfortunately I did not know all this information in my adolescence and I have some old stretch marks on my bottom.  There is nothing I can do about it now although I constantly try new products to reduce their appearance but I certainly do not want any more!
The two products I have been using from Clarins are:
Clarins Tonic Body Treatment Oil, 100ml
Clarins Stretch Mark Minimizer Cream, 200ml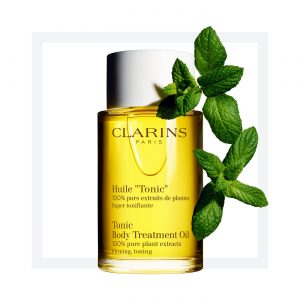 Clarins Tonic Body Treatment Oil, 100ml
This treatment body oil is formulated with 100% pure plant extracts and is extremely moisturising, helps prevent dehydration and helps firm the body. It also works on eliminating toxins with every application.  This tonic oil will help prevent stretch marks and a lack of firmness either because of pregnancy or weight loss.
The plants oils used are:
Essential oils of Rosemary, Geranium and Mint promote a feeling of well-being and energise.
Hazelnut Oil nourishes and maintains skin's moisture level.
How to Use:
Warm a small amount between the palms and apply to dry or dampened skin from the ankles, right up to the waist and breasts in light, massaging motions. Take your time and pay particular attention to the breasts, stomach, and hip areas.  I will typically use the Tonic Treatment in the evening when I have more time to apply properly and take enough time to massage.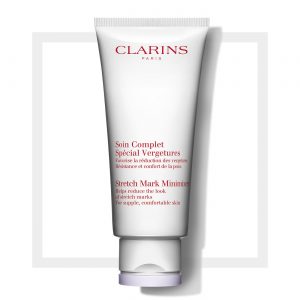 Clarins Stretch Mark Minimizer Cream, 200ml
This treatment cream helps improve the appearance of stretch marks and increases skin elasticity.  It helps enhance the production of collagen fibers and boosts the skin's resistance and elasticity.  It also helps comfort stressed out skin, reducing the colour of recently formed stretch marks and stimulates their repair.
This cream is perfect for us pregnant women.  It is non oily, fragrance and colour free cream that has a soothing and comforting texture.  It can be used both as a massage product and locally applied as a treatment.
Active Ingredients:
Crowberry and Centella Asiatica extracts: prevent the appearance of stretch marks and help reduce the appearance of existing stretch marks.
Olive, Coconut and Palm oils reinforce skin's suppleness.
Siegesbeckia minimises inflammation and colour.
How to Use:
Use light, circular massaging sweeps around the thighs, hips, abdomen and breasts.  I like to use the cream on top of the Tonic Body Treatment Oil in the evening and then if I feel any skin itching during the day, I will apply again topically. This cream can be used morning and evening.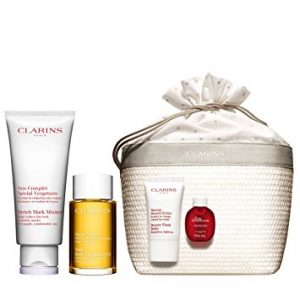 Top Tips
Exfoliating twice a week is another way to fight stretch marks. Doing so stimulates microcirculation and gets rid of dead skin cells.  Exfoliating also helps our body products absorb better so we get maximum benefit from the active ingredients.
Look out for special Clarins Maternity Kits. They normally include both the Tonic oil and the Minimizer Cream at a special price and some extra products to try.
Where to Buy
I  bought my Clarins Maternity Kit from Debenhams Apollon in Limassol from a very lovely lady called Anthoula Georgiou. She is very knowledgeable about Clarins so if you are unsure what to buy, please go and see her.  She will really help.
The Clarins Maternity Kit 'Beautiful Beginnings was €92 and consists of the Tonic Body Treatment Oil 100ml and the Stretch Mark Minimizer 200ml.  This is a saving of €12.50. There are two complimentary products, Beauty Flash Balm 15ml to brighten and tighten the face and Eau Dynamisante 15ml for the body which delivers vitality, firmness and a beautiful uplifting freshness.
Typically the Clarins Tonic Body Treatment Oil costs €54 and the Clarins Stretch Mark Minimizer Cream costs €50.50.
If you have any questions, please ask in the comments section below or send me a message.