How to Exfoliate our Face the Right Way During the Winter
2-Phase Approach
This is probably the question I get asked the most; do I really have to exfoliate my face during the winter and if so how often.
The quick answer is yes, we need to be exfoliating during the winter month's face and body and we should be exfoliating both, at least, once a week, depending on our skin type.  This applies for men and for women!
Falling Temperatures
Winter has definitely hit, this means our skin is taking a winter beating from the change in surroundings and temperatures.  It is very easy for our skin to dry out in the winter and dead skin cells to build up on the skin surface with cold weather outside and hot and dry temperatures inside.  Not a pleasant picture I know but a realistic one.  This can make our skin look dull, dry and even older.
Exfoliation and Hydration – 2 Phase Approach
Exfoliation and hydration go hand in hand in the winter.  It is important to be exfoliating in the winter to slough off the dead skin and allow healthier cells to develop and it is just as important to then follow on with a boost of hydration.
If you have more of a combination to oily skin and want to do a deeper cleanser then you would exfoliate first, use your cleansing mask and then add your boost of hydration.
Boost of Hydration
After exfoliating, it is really important to hydrate and this can be done in a few ways:
1 – Apply a hydrating mask before continuing with your skincare routine
2 – Apply a peptide rich and/or hyaluronic acid hydrating serum to supercharge the fresh new skin cells
3 – Apply a hydrating overnight mask – restore and repair your skin overnight.  Overnight sleep masks have become VERY popular lately and they can deliver an intense result because a mask is a treatment product.
Exfoliation by Skin Type
For normal skin – either a granular scrub or enzyme based exfoliator.  Using a cleansing brush like the Clarisonic is also an option for you and a great exfoliating tool.
For oily skin – please don't over exfoliate as this will make skin even oilier.  Choose enzymatic based exfoliators and look for products which have BHAs (Beta Hydroxy Acid) like Salicylic Acid or an exfoliating cleanser containing charcoal or clay.
For dry skin – use an exfoliating product that can hydrate and remove dead skin cells at the same time.  A manual exfoliator can also be used like the Clarisonic.  It is so important to follow your exfoliant with your boost of hydration afterwards.
For combination skin – use an exfoliator with fruit enzymes.  They are gentle enough not to dry out other areas of your face.  Alternatively use an AHA (Alpha Hydroxy Acid) like Glycolic Acid based cleanser which will exfoliate gently without encouraging oil production.
For sensitive skin – steer clear of physical scrubs.  Instead use gentle pumpkin enzymes or lactic acid formulations.
For aging & more mature skin – Skin cell turnover has slowed down so exfoliate more often.  Try a physical exfoliator with finer particles like microdermabrasion scrub or chemical exfoliators which can penetrate at a deeper level and improve the appearance and the depth of fine lines and wrinkles.
For acne-prone skin – use a cleanser that contains salicylic or lactic acid to keep pores clear; exfoliating pads with salicylic or lactic acid are also an option.
Don't Forget your Hands
My top tip for you this week is whenever you exfoliate your face, take whatever product is left from and apply to your hands.  By removing the dead skin build up on our hands, we are encouraging collagen production which will keep our hands looking younger for longer.
Over Exfoliating
Please do not over exfoliate; over exfoliation causes cracks and tears in the skin barrier which can lead to inflammation and loss of hydration.  For normal, combination and dry skins, once to twice per week is enough. For oily skins, three times per week is the maximum.
Listen to your Skin
Listening to the needs of your skin is the biggest tip of all that I can give you and it is extremely simple to do.  How to do this is an article in itself and I will do this very soon!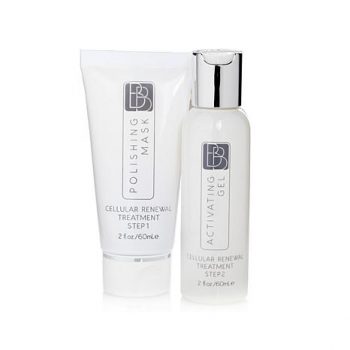 Video
In my video below, I look at an anti-aging microdermabrasion and enzymatic exfoliating treatment you can do at home. It is the Beauty BioScience The Brightener Two-Part Cellular Renewal Treatment.  This works wonders for anyone over the age of 30 and beyond.  It makes my skin look and feel like glass. See my video for more information.
If you have any questions, please ask in the comments section below or send me a message.
Have a fabulous week!