Super Quick & Easy Body Exfoliation
ALPHA-H LIQUID GOLD LUXE RESURFACING BODY CLOTHS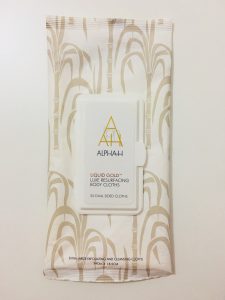 With it being Tuesday and Tuesday typically means #tuesdaytip day, I wanted to share with you a real gem when it comes to body exfoliation.
We all love how our body feels after we have exfoliated but it can be time consuming, messy and require motivation to happen.  We all feel like this at some point, even me.  I have the perfect solution for you and it literally takes 5 minutes tops!
Let me introduce you to the ALPHA-H LIQUID GOLD LUXE RESURFACING BODY CLOTHS.  There is nothing else on the market like it.  ALPHA-H have developed the ultimate body cleansing cloth which exfoliate and hydrate the skin in one.  No water is required and they are disposable, very hygienic and super quick and effective.
How Do They Work
ALPHA-H are world famous for their Liquid Gold.  Alpha–H Liquid Gold is a powerful resurfacing, anti-ageing and firming treatment for diminishing wrinkles, pigmentation and sun damage. They have created a multi action formula which is enriched with silk proteins, licorice extract and Glycolic Acid.  Each body cleansing cloth is infused with Liquid Gold so we know that we can now get the same advanced results for the body as we do for the face.
Who Are They For
These resurfacing body cloths are for anyone wanting to improve the appearance of uneven skin tone, pigmentation, sun damage, acne scarring, skin blemishes, small lumps and bumps which can appear on the upper arms, thighs, and buttocks (keratosis pilaris), problematic/ingrowing hairs and dry flaky skin.
These wipes are also perfect for prepping the body for (and removing unwanted) self-tan.
How to Use Them
Each cloth is dual sided – one side rough and one side smooth.
Start with the rough textured side which is infused with the ALPHA-H signature blend of glycolic acid to buff away dead skin cells and impurities.
Then turn the cloth over and use the smooth side which is infused with a conditioning blend of Chamomile, Marine Algae and Aloe Vera; natural extracts with proven therapeutic and calming benefits, to moisturise and reduce irritation whilst also binding moisture, ensuring your body remains soft, smooth and supple around the clock.
Top Tips
No need to follow on with a moisturiser.  In fact, ALPHA-H prefer that you don't so that the Glycolic Acid can work at a much deeper level.
One cloth is enough to do the full body. Each pack holds 25 cloths.
Use once or twice per week.
Can we used by men or women.
The Result
Skin that feels smooth, hydrated and refined.
Where to Buy
https://www.beautybay.com/bathandbody/alphah/liquidgoldluxebodyresurfacingcloths/
https://www.cultbeauty.co.uk/alpha-h-liquid-gold-luxe-body-resurfacing-cloths.html
https://www.lookfantastic.com/alpha-h-liquid-gold-luxe-resurfacing-body-cloths-25-cloths/11404627.html
http://www.qvcuk.com/Alpha-H-Liquid-Gold-Resurfacing-Body-Cloths-Duo.product.230729.html
If you have any questions, please ask in the comments section below or send me a message.
Have a fabulous week!