Baby Kyriakidou
Dr. Marios Liasides & His Child Birth Pain Free Magical Technique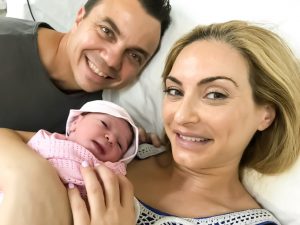 On Monday 20th August 2018 at 21.45 our little baby girl #babykyriakidou arrived.  So many emotions were running through me thinking back to that day two week ago.  I felt emotionally and physically ready for the day but being that it was my first birth, and not knowing what to expect, I was a little anxious.  Not necessarily about the birth but about the pain, the pain of child birth. I kept telling myself so many women give birth around the world, I can do this too! No pain, no gain!  That is what I kept trying to tell myself, stay calm, focus and breathe through each contraction.
My labour started gently 3 days before.  I had not realised it at the time.  On the Friday, I just put the feelings down to Braxton Hicks.  On the Saturday, I remember feeling very tired and the pains were slightly stronger and I had some back ache but again, I dismissed them because I thought early labour pains would be stronger.  On the Sunday, my contractions were roughly every 10 minutes and my pregnant belly felt as tough as a brick from the very top to the bottom and below.  I knew I was getting close to meeting my little girl but again, I had not realised that labour had begun.
Sunday evening, my husband and I had gone to the Molos area to walk with our Koumbari and Goddaughter.  I remember saying to them, I have strong pains but how do I know that they are labour pains.  They both said, when you are in labour, you will know.
I did not get much sleep that night.  The pains did not get stronger but they were constantly there every 10 minutes or so making it difficult to sleep.
On the Monday, I had already planned to go and see my Gynaecologist, Dr Marios Liasides, and I was going to ask him about my pains.  That morning, I had noticed that the mucus plug had detached but this is normal when you reach full term.  It does not necessarily mean labour is imminent but it does detach so that in labour can start.  On examination, the Doctor said to me you are having labour pains.  He advised me to go home, have a shower, collect my things and let my husband know that today is the day, "σήμερα θα γεννήσουμε."
Dr. Marios Liasides, H Zoodoxhos Pigi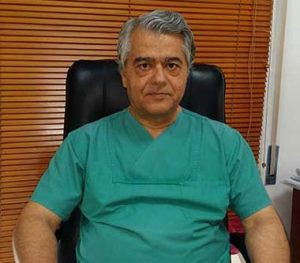 I can not recommend highly enough this man, as a Doctor and as a person. His whole aura for me instills a confidence and calmness that I did not think was even possible to be synonymous with 'child birth'. 
The pains came thick and fast after 13.00 but his team were ready to help with support and the appropriate pain management. My midwife for most of the birth was Kentia and she really was superb both before the birth and after, teaching me how to look after my newborn.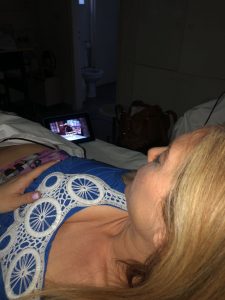 Dr. Liasides is very well known for his injection directly into the cervix which he learnt in Germany. The result of this injection is manageable pain relief and it assists with cervix dilation.  I felt so comfortable during my contractions that I even watched a couple of episodes of Friends.
I can honestly say that the only pain I felt was right at the end in the final 3 pushes.
I would like to say a massive thank you to Dr. Liasides and his team for taking such great care of me and my baby. The love and respect I have for Dr. Liasides and his work is immense.  No one can call child birth easy but he made it as easy and as comfortable as it could be.
Find out in my next article, what I actually needed for the clinic and how many of each.