Today is December 1st which means I can open day-1 of my Decléor Beauty Advent Calendar. For the bargain hunters of you out there, there is still time.  This is when the price tends to reduce on the beauty advent calendars still left on the shelves or available online.  I can not tell you which ones are still available but I can let you know my 10 top picks: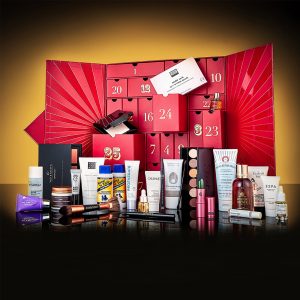 Look Fantastic
Featuring 25 magical beauty treats, this premium collection contains a show-stopping line-up of the best products from the beauty industry. From skincare treats to tanning, haircare to cosmetics, branded tools and exclusive products.  This Christmas, take centre stage with lookfantastic.
Priced at £79, with contents worth over £300.
Rituals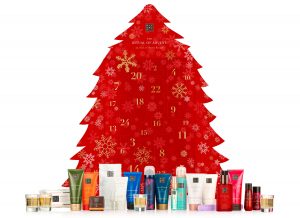 Celebrate the countdown to Christmas with a new present each day, and let this Advent calendar inspire the ritual of taking a moment just for yourself. From candles to shower gels and body creams to hand lotions, Rituals' advent calendar houses 24 of the their best-smelling beauty products. It's totally indulgent and will make December a little more luxe. Available from the Rituals website.
Priced at €59,50 with contents worth €120.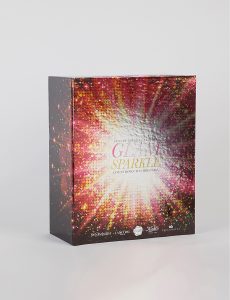 SELFRIDGES 

Glam Sparkle Beauty Advent Calendar
Selfridges have put together the best beauty bits of the season in this Glam Sparkle calendar, with the help of best-selling brands Kiehl's, Lancôme, Urban Decay, Viktor & Rolf and YSL. It is a luxury advent calendar with prestige brands and available now at a reduced price.
Priced at £90.00 (previously £130.00). Available now on the Selfridges website.  This is exclusive to Selfridges.
CLINIQUE 

24 Days Of Clinique Advent Calendar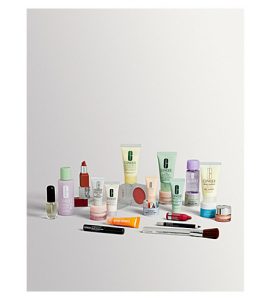 Bursting with the brand's signature skincare, fragrance and make-up must-haves, including the Smart Night™ Custom-Repair Moisturizer, Pep-Start™ Eye Cream and Clinique Pop™ Lip Colour + Primer, it's guaranteed to get loyal fans of the label and novices alike in the festive spirit.
Priced at £76.00 and last 4 remaining.  Available now on the Selfridges website.
Amazon 2018 Beauty Advent Calendar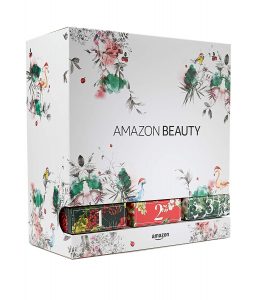 The 2018 Amazon Beauty Advent Calendar contains a mix of 24 products from some of their most-loved beauty brands such as Elemis, Pai and Rimmel.
Priced now at £30.00 (was at £50.00) and available now on the Amazon UK website.
Disney Snow White 12 Days Beauty Advent Calendar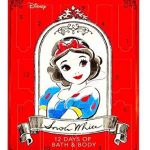 Exclusively designed beauty products 12 Day Advent Calendar for Superdrug by Mad Beauty featuring Disney's Snow White. Not for children under the age of 3 and not a toy.
Mad Beauty's Snow White Advent calendar features 12 individual products to enjoy as each window is opened featuring a range of bath and body products all with the a fresh apple fragrance. A great gift to give or receive with classic images from Disney's' iconic Snow White & the Seven Dwarves. Open a window a day to enjoy one of these hidden surprises – hand cream, body lotion or body wash, lip balm , bath fizzers , nail file or a body puff.
Priced now at £7.00 (was at £14.00) and available now on the Superdrug website.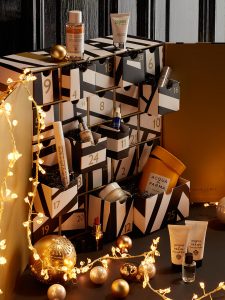 John Lewis & Partners Beauty Advent Calendar
A delightful gift for beauty enthusiasts or to treat yourself, their collection of 25 full and luxury trial size products is brimming with radiant skincare heroes, makeup must-haves and beautifully scented fragrance favourites.
Behind every drawer there is a different treat each day from their much-loved beauty brands, to ensure we are perfectly prepped and pampered for the festive season.
Priced at £165.00 and available on the John Lewis website.
Dr. Barbara Sturm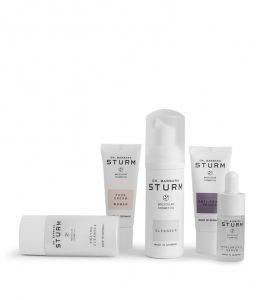 Enjoy a luxe skincare treat as the count down begins the days until Christmas with the Dr. Barbara Sturm advent calendar. Developed by the doctor's eponymous clinic that specialises in Molecular Cosmetics, each product utilises scientific methods to provide professional-level treatment at home. Offering a range of products from moisturising, anti-aging and anti-pollution to glow-enhancing, to ensure we look and feel our best come the 25th.
Priced at €523.76 and available on the Harrods website.
Clarins 12 Days of Christmas Advent Calendar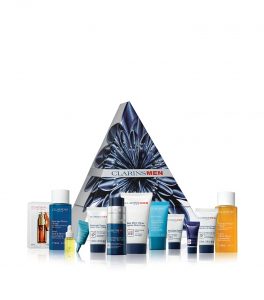 Perfect for any beauty obsessive or simply a festive treat for yourself, the 12 Days of Christmas Advent Calendar set from Clarins allows us to celebrate the magical season in covetable glamour. Including a skin-kind primer, cleanser and nourishing balm alongside the label's favourite make-up essentials, it offers a complete collection presented in a charming tree-shaped calendar.
Priced at €69.83 and available on the Harrods website.
There is also a version for the men at the same price and available on the Harrods website.
CHARLOTTE'S BEAUTY UNIVERSE Beauty Advent Calendar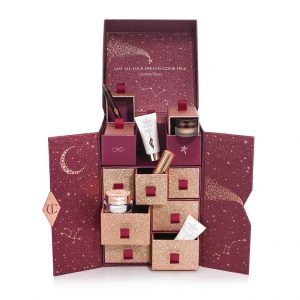 Charlotte's Beauty Universe is a MUST-HAVE beauty advent calendar of 2018. If I could choose another to buy, it would be this one.  Explore Charlotte's world of makeup & skincare with a different treat behind every door. This is Charlotte's magical holiday calendar that is filled with the most iconic, out-of-this-world beauty icons, worth £196.00, to treat yourself with. Indulge yourself with the ULTIMATE universal starter kit from Charlotte's incredible range! 12 full size & mini award-winning beauty & skincare heroes.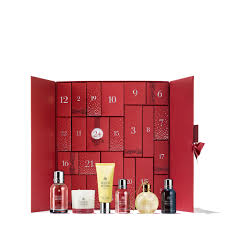 Molton Brown Opulent Infusions Advent Calendar
A merry muddle of festive fragrances, the Opulent Infusions Advent Calendar is the ultimate homage to Christmas. Behind each of the 24 doors, a tantalising treat awaits – many in full-sizes. Opulent. Glittering. Sensational.  
Priced at £175.00 (worth £272) and available on the Molton Brown website.
My Top 3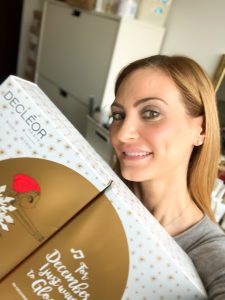 1 – Decléor For December I Just Want To Glow. To read my article, click here: https://www.secretsinbeauty.com/decleor-beauty-advent-calendar-2018/
2 – CHARLOTTE'S BEAUTY UNIVERSE Beauty Advent Calendar. I think it is a great way to try a superior brand.
3 – Molton Brown Opulent Infusions Advent Calendar.  I love Molton Brown and this set is perfect to try a few things that I haven't tried yet from this iconic brand.
If you have any questions, please send me a message and I would love to hear what your favourite beauty advent calendar for 2018 is too.