I introduced you to a couple of Beauty BioScience products around this time last year; the essential ingredient in the Beauty BioScience range is retinol which is a key anti-ageing ingredient.  However, retinol can not be used during pregnancy or whilst breastfeeding.  Every cloud has a silver lining! I was upset about having to stop breast feeding, but it meant that I could re-start my love affair with retinol.  I have recently completed a six-week course of Beauty BioScience RetinoSyn-45 system and I love the effect on my skin!
Who is Beauty BioScience?
Beauty BioScience or BeautyBio as it is now called launched in 2011.  It is a father and daughter team, Dr Terry James, Co-Founder / Chief Biochemist and Jamie O'Banion, CEO / Co-Founder.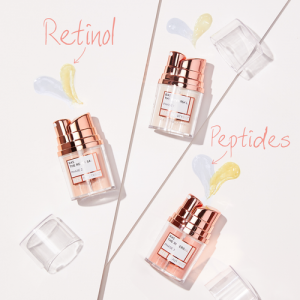 Jamie witnessed prestige brands using minimal concentrations of active ingredients to save on costs but still make clinical claims. Having created several best-selling formulas, Jamie and her father were ready to design a line that was not only efficacious, but formula-honest and results driven. Inspired to pull back the industry's curtain, the duo launched the first ever at-home patented microneedling tool in 2016, designed to place the results of in-office treatments in consumer's hands without the per-treatment price tag.
BeautyBio delivers targeted, problem solving, skin solutions; they start by looking at our skin needs and problems and reverse engineer a solution.   They focus on what needs to be done to achieve the required end result and it always comes down to skincare formulations.
What Makes BeautyBio Different?
The BeautyBio father and daughter team, for the majority, do not use regularly available ingredients, instead they create their own.  They build molecules; creating new active ingredients and formulations. This is the difference!  They understand formulation percentages and what is required to create a visible difference on the skin.
R45 The Reversal Retinol Cream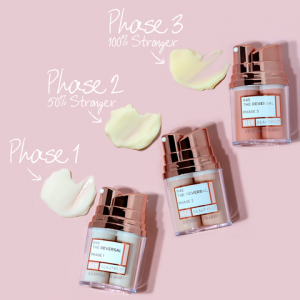 This is a 3 phase retinol cream booster system.  The R45 The Reversal Retinol Cream is an award-winning, patented, retinol skincare booster system so powerful, it's only needed twice a year. The formulation is a proprietary retinol complex and is clinically proven to repair all four benchmarks of aging – skin spots, wrinkles, pores and skin tone unevenness – in one 45-day retinol treatment. Concentrations of the proprietary TriGLO™ retinol complex increase with each phase, which lasts for two weeks, to ensure results never plateau. Unlike many retinol serums and retinol creams, R45 MAY be used around the eye area, an area we need it most). In a clinical study using facial skin scan analysis, R45 The Reversal achieved an unprecedented 49.5% reduction in the appearance of fine lines and deep mechanical wrinkles after one 45-day treatment.  This skin treatment may be used in conjunction with GloPRO® Microneedling Facial Regeneration Tool which I have and will share with you in a later article.
This replaces all nighttime skincare products for 45 days.  Go back to other skincare products, once the 45 night course has been completed.
How To Use
Titration Therapy – unlike single concentration products, this process works to help acclimate your skin to a measured concentration of product, so that you have time to adjust and get used to the dose; then this is increased gradually. Each phase lasts for two weeks.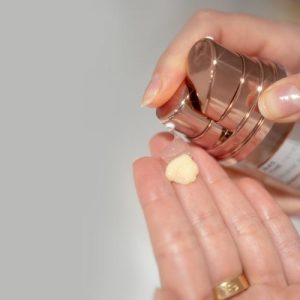 Use at night after cleansing.  Use 1-2 pumps of Phase 1A Regeneration Complex and either layer or cocktail with Phase 1B GFS Serum and apply to face nightly until component is empty (usually takes about two weeks). Component is recyclable, so please recycle.
After Phase 1, advance to Phase 2 and repeat same application instructions.  Conclude with Phase 3. Results are cumulative. Do not start with Phase 3.
Clinical Results for R45 The Reversal
In a clinical study using VISIA facial skin scan analysis, R45 The Reversal achieved a 49.5% reduction in the appearance of fine lines and deep mechanical wrinkles.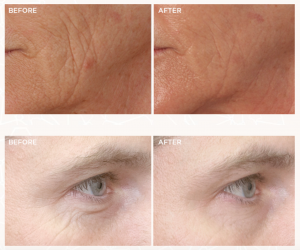 In a clinical trial:
-95% noticed smoother skin upon completion of R45
-82% noticed an improvement in wrinkles upon completion of R45
In a consumer perception survey:
-100% agreed skin looked better once treatment was completed
-95% noticed a visible change in skin
-90% felt pores were less noticeable
-90% felt skin looked more radiant
-90% noticed a reduction in the appearance of wrinkles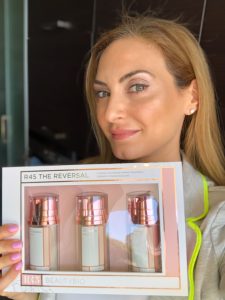 Top Tip
Retinoids can be a miracle worker for those dealing with acne, anti-aging, or hyperpigmentation.  However, it is equally as important that when using any products which contain retinol, a high SPF should be used daily.
Where To Buy
This set can be purchased directly from BeautyBio for £190.00 here: https://shop.beautybioscience.co.uk/products/r45-the-reversal
R45 The Reversal is also available from QVC UK, and Harrods.
If you have any questions or would like to share your experience, please send me a message.