This is my last article on retinol, for now anyway.  I want to introduce you to another superb product from the brand, Alpha-H, called, Beauty Sleep Power Peel. This product offers clinical exfoliation and rejuvenation at night while we sleep. Beauty Sleep Power Peel is a dynamic dual-purpose resurfacing treatment and anti-ageing skin restorative, which boosts collagen and stimulates cellular renewal while helping to reduce sun-induced ageing, scarring, acne and wrinkles.  All these results encapsulated in one, easy to use, product.
This product is not suitable for pregnant or breastfeeding mothers (Vitamin A).
What Is Alpha-H Beauty Sleep Power Peel?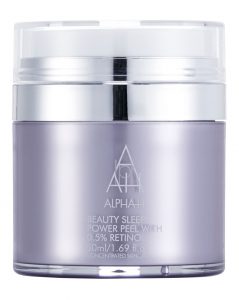 This is a combination of active ingredients Glycolic Acid, Retinol, Chronodyn, Hydranov-P and Axolight. With 15% glycolic acid and 0.5% retinol, 'Power Peel' is a regenerative powerhouse.  It kick-starts cells regeneration while we sleep to promote the production of collagen, elastin and moisture-retaining glycosaminoglycans. This product refines, firms, plums and radiance boosts.  It is beneficial for virtually all complexions – whether they're starting to betray their age, or are susceptible to blemishes and breakouts.  This product is ideal for mature, sun damaged, prematurely ageing, lacklustre and acne-scarred skin
How Does It Work?
Alpha-H's Beauty Sleep Power Peel is formulated to exfoliate, rejuvenate and repair while we sleep.  It is a potent, age-reversing and skin-clarifying cocktail of active ingredients. It includes a high concentration of glycolic acid to gently dissolve dulling dead cells, and retinol to stimulate elastin and collagen production, both responsible for your complexion's youthful 'bounce', 'stretch' and density. By eliminating pore-clogging debris, skin appears clearer, while encouraging regeneration, this gradually lessens visibility of scars. Algae-derived chronody works to enhance vitality and trigger cell metabolism, while 'Axolight' which is derived from wheat bran, inhibits melanogenesis.  This helps delay the development of dark spots and exhibit a skin-brightening effect. It is a potent skin perfecting product. SLS and paragon free.
How To Use
Use one to two evenings a week. Apply to clean, dry skin using upward, circular motions over the face, neck and décolleté, avoiding the eye area.  It can also be applied on top of serum. There is no need to follow with a night cream.
Top Tips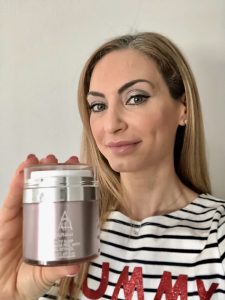 Typically, if you are under the age of 40 then this product may not be suitable yet for you.  If you are over the age of 45, then this product definitely has a key role to play in your skincare routine.  If you have not used retinol or glycolic acid before, only use once a week and build up to twice per week.  When using glycolic acid and/or retinol as part of your skincare routine, always use SPF during the day.
Where To Buy
Beauty Sleep Power Peel, 50ml, is available from Cult Beauty for £54.00.
Also available at QVC UK for £45.00.
If you have any questions or would like to share your experience, please send me a message.