KORRES – Create the Perfect Professional Eye
Professional, Natural Solutions to Daily Makeup Needs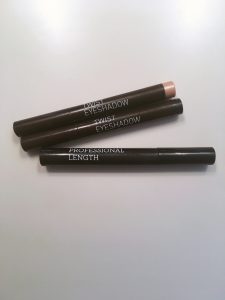 It had never occurred to me initially that KORRES had a makeup line.  I was very fortunate to be given a few products to try which are all based on the same principal of good and natural solutions with no parabens, mineral oils, propylene glycol, ethanolamine.
The three products given to try:
VOLCANIC MINERALS – Twist Eyeshadow 11 Ivory
VOLCANIC MINERALS – Twist Eyeshadow 98 Metallic Black
BLACK VOLCANIC MINERALS – Professional Length Mascara 02 Brown Plum
What struck me the most with these products is that they have amazing staying power.  I have tried many products which promise 24 hour long lasting wear but most just can not deliver.  This is not the case with these products.
VOLCANIC MINERALS Twist Eyeshadow
The first thing I noticed when applying the eye shadow is that they are very creamy and very blendable but you do have to be relatively quick if you want to blend and once they set, they do not budge.  These eyeshadow sticks can be used as an eyeshadow as well as a liner.  They twist up and down so we can get the exact amount of colour and intensity.  The eyeshadow sticks and the tips themselves are quite thick so to do a very defined liner, there is an integrated sharpening tool at the base.  Sharpen first and then line.
BLACK VOLCANIC MINERALS Professional Length Mascara 02 Brown Plum
This mascara comes in a choice of 2 colours – black or brown plum.  The brown plum is a rich deep colour and it is perfect for everyday wear.  I like my lashes to look long and defined and this mascara brush is fantastic.  It lengthens and seperates every single lash without feeling heavy, it does not flake and it is enriched with tonic volcanic trace elements and shea butter that care for the lashes.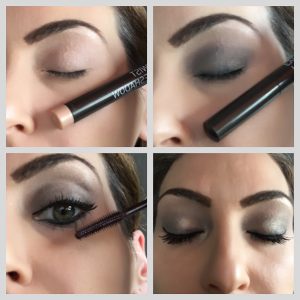 How to Use
If I wanted to do a very clean eye makeup look, I would just use the 11 Ivory all over the lid and up to the eyebrow.  I could then apply a very thin line top only and then the mascara,
If I wanted to do a soft smoky eye then after applying 11 Ivory, I applied the 98 Metallic Black to the outer corner of my eye and blended out and into the socket line.  To finish, I added a little of 11 Ivory to the center of the eye lid to open up the eye.
If I wanted to do an evening look then I would still use the same products but use more of the metallic black and keep blending until I get the desired effect I want.
Price
The VOLCANIC MINERALS Twist Eyeshadow are €15.50 each.  Once opened should be used within 24 months.  A little goes a long way so I would say that these eyeshadows will last at least 12 months so very good value for money.
The BLACK VOLCANIC MINERALS Professional Length Mascara in 01 Black or 02 Brown Plum is €20.50 each.  Once opened it does say on that it should be used within 9 months.  Generally speaking for hygiene purposes, I would not keep a mascara for any longer than 3 months and at a push 6 months.
In Cyprus, you will find KORRES skincare in Debenhams stores and KORRES makeup in certain pharmacies and its dedicated store in Nicosia; Archbishop Makariou C' Avenue 21C.
Visit the KORRES Cyprus Facebook page here: https://www.facebook.com/KORRES-Cyprus-134014460094325/
If you have any questions, please ask in the comments section below or send me a message.
Have a fabulous week!