Decléor Harmonie Calm Organic Skincare for Sensitive Skin
My Favourite Products
Like I said in my previous article, sensitivity can happen at any time and to all skin types. When I suffer from skin sensitivity, the perfect product to reach for is rose and in Decléor's case, the Harmonie Calm range.  It is organic and a brand new range from Decléor which is perfect for calming and soothing the skin.
How Do I Know If I have Sensitive Skin?
The term, "sensitive skin" gets thrown around all too often. The truth is that most people who claim to have sensitive skin actually don't.  More often than not, sensitivity may happen with the overuse of products like retinol and glycolic acid, leading to irritation. Skin is also more prone to irritation in the cooler months, so don't take a reaction to the frigid or unpredictable weather as a red flag for skin sensitivity.  It is the skin reacting.
To test whether skin is really sensitive, brush your fingers across the side of your face with light to medium pressure, if the skin turns red, it is sensitive.  Another measure of skin sensitivity is if when applying skincare products, it causes stinging or redness.  This can include everything from face washes and moisturisers to foundations and blushes.
Understanding whether or not skin is truly sensitivity is the first step in perfecting our skincare regimen. Sensitive skin can look tired, lack lustre and vibrancy, and need calming, all at the same time.
Decléor New Harmonie Calm Organic Range
The new Decléor Harmonie Calm Organic range is perfect for skin sensitivity, no matter the cause of the sensitivity.  The Aromessence Rose d'Orient Oil-Serum is clinically proven to reduce skin reactivity to external aggressions by 70%. It is formulated with Damascena Rose Essential Oil from Bulgaria, which is proven to reduce redness, stabilise and soothe skin. It was tested under clinical control with 54 subjects over 28 days.  70% of women felt their skin less reactive against external aggressions (cold. heat, wind, air conditioning pollution).
The range is certified organic and has been monitored by Ecocert & Cosmebio. It is formulated with organic ingredients, organic production methods (no preservatives or irradiation), no artificial colours or preservatives, organic & sustainable packaging and 100% Natural.
This range is safe to be used during pregnancy.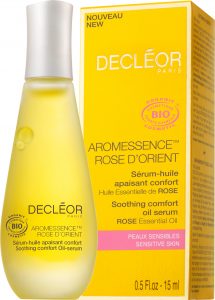 AROMESSENCE ROSE D'ORIENT SOOTHING COMFORT OIL SERUM
Essential Oils of Rose, Chamomile & Geranium will soothe, even and stabilise the skin all day long. Use just three drops in the morning to calm the skin and prevent flare-ups all day long.
91%of women found their skin tingled less, felt less tight and didn't flare up during the day. It was consumer tested on 85 caucasian women, after 28 days of application.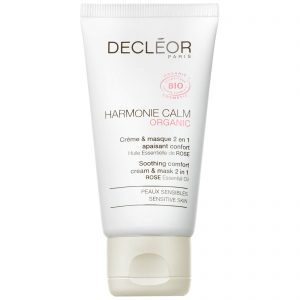 HARMONIE CALM ORGANIC 2 IN 1 CREAM & MASK
Rose Essential Oil will soothe, reduce redness and stabilise the skin all day long. Use as a day cream every day and use a thicker layer twice a week as a sleeping mask.
79% of women found their skin redness was reduced. It was consumer tested on 85 caucasian women, after 28 days of application.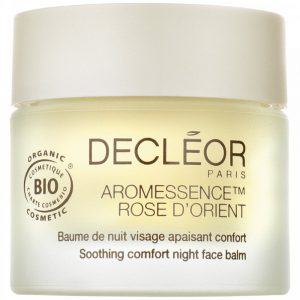 AROMESSENCE ROSE D'ORIENT NIGHT BALM
With 5 essential Oils including Rose Damascena, the gentle and comfortable texture of Aromessence Rose D'Orient night balm is easily absorbed and accelerates skin cell regeneration overnight to leave you with soft, soothed, smooth skin every morning.
76% of women found their skin completely soothed overnight. It was consumer tested on 85 caucasian women, after 28 days of application.
If you are suffering from skin sensitivity, try Decléor's new range.
If you have any questions or would like to share your experience, please send me a message.