Perricone MD
Innovative Treatments, Patented Technologies & Ingredients
Who is Dr. Nicholas Perricone?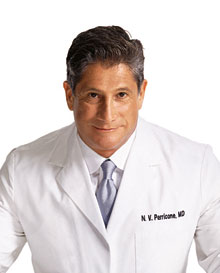 Dermatologist and nutritionist, Nicholas Perricone, is the man behind the eponymous luxe skincare line, Perricone MD.
Dr. Nicholas Perricone is a world-renowned healthy ageing expert, award-winning inventor, philanthropist, and author of multiple New York Times bestsellers, including The Wrinkle Cure, The Perricone Prescription, The Perricone Promise, and Forever Young.
Three-Tier Philosophy
Dr. Perricone has a holistic approach to promote healthy-looking skin and body through his Three-Tier Philosophy:
TIER 1: ANTI-INFLAMMATORY DIET
The best nutrition plan to minimize the visible signs of aging and reduce inflammation is to eat lean sources of protein, make low-glycemic choices about carbohydrates, and choose fruits and vegetables rather than refined, processed foods. Sounds foods we love are chicken, wild salmon, old-fashioned oats, berries, fresh vegetables, and healthy fats, like those found in avocados, nuts, and olive oil.
TIER 2: NUTRITIONAL SUPPLEMENTS
Since our antioxidant levels are difficult to measure at any given moment, the best way to ensure you have steady protection is to control your dietary intake of antioxidants. Our supplements are designed to provide our bodies with the appropriate nutrients they need that aren't always obtainable from the foods we eat.
TIER 3: ADVANCED TOPICAL SKINCARE
Designed to promote the most visible signs of healthy-looking skin, our formulations are rich in antioxidants and nutrients that our bodies naturally create on their own. Because our bodies recognize these ingredients as their own, you will see dramatic results more quickly. The "Three P's" of Tier 3 are Performing Ingredients, Patented Sciences, and Powerful Results.
My Top Products from Perricone MD
I am 1000% sure that this list will get longer and longer over time.  Currently, I am using these two products as part of my evening routine and my skin is loving them.
Perricone Cold Plasma Plus+ CBD Serum 30ml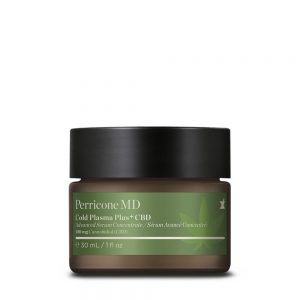 This limited-edition, next-generation technology in a jar does it all. With 100 mg of Cannabidiol (CBD), this multi-tasking powerhouse uses a proprietary liquid crystal delivery system for faster and deeper penetration of key ingredients into the skin's surface, promoting 10 of the most visible signs of healthy, youthful-looking, calmed and soothed skin. This has 14 active ingredients plus the delivery system ensures that these 14 active ingredients are absorbed and make a difference to our skin.
CBD oil is a massive buzz word in the beauty industry.  CBD (also known as cannabidiol) is the non-intoxicating component of marijuana or hemp plants. It has a perfect balance of nutrients and substances that will nourish, repair, and moisturise the skin. CBD oil products have anti-inflammatory and healing benefits.
Key Ingredients
100mg Cannabidiol (CBD), Vitamin C Ester, Omegas 3,6 & 9, Copper Tripeptide.
CLINICAL RESULTS*
100% showed a significant improvement in fine lines and wrinkles*
97% showed a significant improvement in pore size
*In a clinical study on 30 women over 28 days
CONSUMER RESULTS*
87% saw more radiance & improved texture
83% saw more even tone
81% saw less redness & less discoloration
79% felt firmer skin
*In a consumer study with 52 women over 28 days
After cleansing, massage onto face and neck using a gentle upward motion. Wait until fully absorbed and follow with a moisturiser. Use morning and evening.
Cruelty-free and 100% vegan.
Price: £127.00 P&P: £2.95
Perricone Face Firming & Finishing Moisturiser 59ml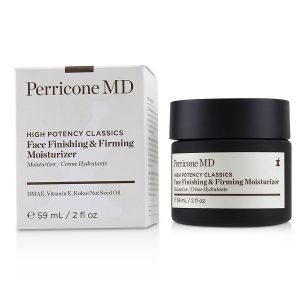 This is an indulgent, rose-scented moisturiser that combines Perricone MD's signature sciences with a nourishing, rich, and ultra-hydrating texture. This firming, face cream delivers instant hydration, while visibly smoothing, plumping and firming skin over time, leaving a radiant complexion.
This is one of the best-selling moisturisers.  It is loaded with powerful antioxidants and nourishing nutrients to help minimize the appearance of fine lines and wrinkles. This unique formulation contains vitamin E, DMAE, and kukui nut seed oil to combat everyday dryness.
Key Ingredients
DMAE, Alpha Lipoic Acid, Vitamin C Ester, Vitamin E, Kukui Nut Seed Oil.
What It Does
Infuses the skin with essential hydration to help minimize the look of lines and wrinkles.
Enriched with antioxidants and nutrients for a smoother appearance.
Imparts an instantly glowing, dewy complexion
Works as a cream but feels like a lotion
CONSUMER RESULTS*
97% agreed skin looked healthier
97% agreed skin felt more hydrated
91% agreed skin had a radiant glow
91% saw a reduction in the appearance of fine lines & wrinkles
76% agreed skin became firmer & tighter
*In a consumer study with 30 women after 28 days
Massage onto cleansed face and neck using a gentle upward motion. Use mornings and evenings. For best results, apply after a serum.
Price: £59.00 P&P: £2.95
My Opinion
Perricone MD where have you been since I turned 30!
If you are a Secrets in Beauty regular, you know I love many brands.  I turned 40 in December and I want to push my skin to look even better.  I am using these two products as my nighttime routine only at the moment to see how my skin adjusts to these new and patented ingredients.  This is the one reason, the other reason is that I am doing a skin reset with Elemis Biotec at the moment and Biotec needs to be used on its own in order to reap the skin benefits.
A little goes a long way with Perricone MD.  These products are a higher price point for sure but they are cosmeceutical products.  These products are scientifically formulated and patented ingredients that create a visible difference on the skin.
Anyone under the age of 40 with good skin will probably not need to step up to this range unless they want to try the Face Finishing Moisturiser.
Anyone 30+ who has seen a lot of sun, should definitely step up to using Perricone MD.  These products are for women 40+ that want to see a new level of result with their skin.  This is what I was looking for and this is what I have begun to see. My skin is looking better than ever; it is balanced, it looks youthful and toned and it feels plump and healthy.
If you are looking to take your skincare to a higher level then please consider Perricone MD.
Where to Buy
I buy a lot of my products from QVCUK.  Use my link and save 10% off your next order: https://mention-me.com/m/ol/jw3yk-christina-maria-kyriakidou
If you have any questions, please send me a message.