It is just as important to look after our hair as it is our skin and there are great products available on the market to protect hair and scalp depending on the hair type and hair needs.  By not protecting our hair in the sun, it can result in dry, dull, brittle locks and it can have an adverse effect on coloured hair.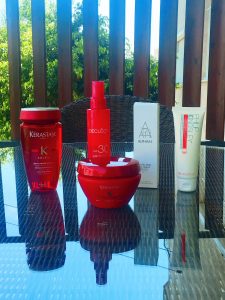 Many of us have healthy hair all year around, but come summer and our hair turns limp and lifeless. This happens because the high humidity content in the atmosphere settles on our hair and weighs it down, resulting in limp hair.  The increase of summer sweat and dust can contribute to an increase in hair problems like dandruff, split ends, frizziness and increased hair fall.
It is also important to protect our scalp.  A healthy scalp means healthy hair. Our scalp in the same as the skin on our body and it requires sun protection.  Not only can a burnt, itchy scalp be very uncomfortable, it can also negatively affect future hair growth.
My Top Tips For Sun Hair Protection
Use Hair Protecting Products
When hair is exposed to water and sun exposure, the negative effects of free radicals are amplified. The hair shaft is considerably weaker when wet and so more susceptible to UV rays.  Throw in the drying effects of sea salt and chlorine, it's no wonder split ends and breakages are at their peak.
Sun exposure can cause the scalp to become sensitive.  It can also cause straggly ends, hair dry out and faded colour.  By using the right sun hair care, we can limit the damage.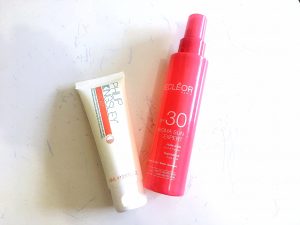 Philip Kingsley's Swimcap is a fantastic product. It has stood the test of time.  It was developed in the Eighties for synchronised swimmers, this cream protects and shields much like a real swimming cap. It guards against chlorine and salt water by drawing moisture into the hair. Always apply to damp hair and comb it through to ensure every strand is evenly protected. Re-apply after swimming.
Decleor Paris, Aroma Sun Expert SPF 30 Summer Oil for body & hair delivers protection and luxury combined.  This gorgeous sun oil smells divine and has been expertly formulated to deliver body and hair protection against the effects of the sun's UV rays. Easy to apply as a spray, it contains UVA and UVB filters to help protect skin from the appearance of the signs of ageing, and is enriched with Manoi oil. Skin feels sublimely soft, moisturised and looks beautiful, and hair feels deeply nourished and soft. Before exposure to the sun, apply evenly and generously to the body and hair.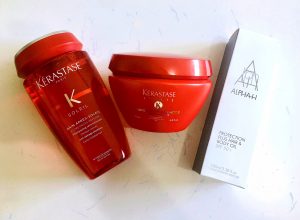 Kerastase Soleil offers 25 years of expertise for the protection of sun-exposed hair and has a full routine to protect, reinforce, nourish, style and illuminate the hair.  Without fail, every year, I will buy and use the daily nourishing shampoo with UV filters, 'BAIN APRÉS SOLEIL' and the intense Nourishing Masque For Sun Exposed Hair, 'MASQUE UV DÉFENSE ACTIVE.'  These products help to protect, repair and beautify hair exposed to the sun.
Hair feels nourished and protected against sun damage
Hair feels more resistant
Hair feels detangled, softened and nourished which is what we need at this time of year
Alpha-H, a relatively new-kid on the block in comparison to the other 3 brands above but definitely worth a try and is a multi-award winning Australian brand.  Their Protection Plus Hair & Body Oil is an innovative powerful all-in-one SPF spray that revitalises and fortifies with enriched Argan Oil and Ginger.  It is lightweight, transparent and greaseless.  It is a fast-absorbing formula which imparts a subtle glow to hair and skin as it restores moisture and protects from the drying effects of sun and outdoor activities and defending against the harmful effects of UVA and UVB rays.   It won the bronze award for 'Best New Sun Care & Tanning Product' in The Pure Beauty Awards 2017.
It delivers:
SPF 50+
Protects skin and hair from UV damage, salt and chlorine
Reduces inflammation, redness and inflammation induced ageing
Prevents sun spots, pigmentation and sun induced ageing
Nourishing yet lightweight and transparent
Limit Heat Styling and Hair Colouring
Try and limit heat styling and hair colouring as much as possible.  Unless there is a special, leave hair to dry naturally and use leave-in treatments.  Hair sustains maximum damage with chemical treatments leading to color fading and excessive hair dryness.  Select hair care products that are specially made for coloured or treated hair. If you have recently colored your hair, try going out less often in the sun, especially when it's at its peak.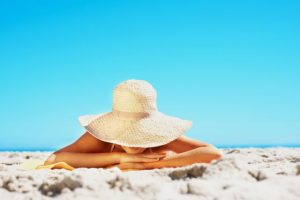 Throw On a Hat Or A Scarf
A wide-brimmed hat (as opposed to a baseball cap) that covers your face and neck offers extra protection from the sun. I have and wear both.  Fabric matters, too.  Straw hats are not as protective as tightly woven ones.
Drink Lots of Water
While we may be doing all of the above to protect your hair from the sun, if we are not drinking enough water, then we are making things harder for ourselves. Our hair and skin will benefit immensely from the amount of water we drink. So drink lots of water to help keep our hair healthy and hydrated and eat as many fresh fruits and vegetables as possible. This is an essential hair care tip for summer.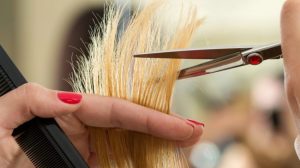 To be honest, I could do with a trim now as it has been a little while but with the upcoming birth of my little girl and summer in Cyprus being in full swing, I will wait until September to do this.  It is important that we get our hair trimmed regularly in order to keep the ends looking and feeling strong and healthy.
If you have any questions, please ask in the comments section below or send me a message.