Batiste Dry Shampoo Instant Hair Refresh That is Easy to Use & Works
The Secret Weapon to Reviving Summer Hair
Dry shampoos have gained popularity again over the last few years but they have actually been around for a lot longer.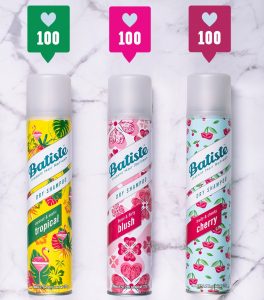 What is Dry Shampoo?
Dry shampoo is basically applying a substance usually with absorbent properties to the scalp or hair to absorb excess oil, dirt or odour from the hair without washing.  They give our hair a break between shampoos, they help refresh our hair style when we need it and they can be our saving hair grace when a shampoo isn't practical or possible.
It is the perfect hair accessory for women on the go!
Why Use Dry Shampoo?
I mentioned a few reasons above but there are so many benefits to why we should use a dry shampoo and when to reach for it.
To protect the perfect blow dry – Whether this is a salon or home blow dry, we want it to last as long as possible and more importantly we want it to last until we are ready to wash and style again.
To add volume – Even if our hair does not get greasy quickly, just the process of sleeping on our hair can make it flat and lifeless. By spraying dry shampoo at the roots, it adds volume and fullness once again to the hair.
To add texture – Applying dry shampoo to the hair prior to styling up-dos makes the process so much easier and even helps keep the style for longer.
To save time and energy – There are days when things happen and it is just not possible to wash and style our hair. This can be from waking up late, a last minute social engagement, family life, lack of motivation and/or time constraints; dry shampoo can help save the day.  I am even thinking to have some with me when I go to give birth because I have no idea what the situation will be and how I will be feeling.
Why Batiste Dry Shampoo?
Batiste is an award winning dry shampoo brand with a cult following.  Batiste was developed in the 1970s and has a loyal following with new women discovering it every day. Batiste is the UK's Number 1 dry shampoo brand, the beauty "must have" product and loved by millions of women.
Their products instantly refresh our hair between washes, leaving it feeling clean and fresh with added body and texture.  They have even developed the range to help support whatever kind of hair day we are having and all at an affordable price.
Batiste Dry Shampoo Fragrance Range (€5.45)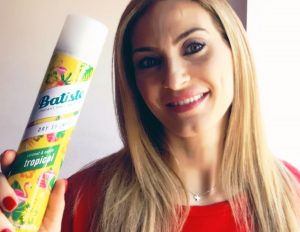 I love the fact that Batiste has introduced different fragrances.
For the summer, Tropical is my favourite; coconut aromas give me that holiday feeling and the feeling of being somewhere exotic.
Tropical fragrance is also available in travel size 50 ml (€2.95)
Other Fragrance Options Available: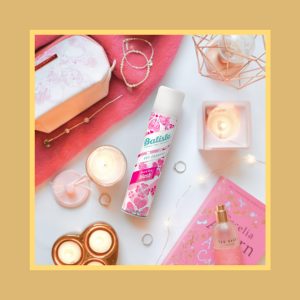 Blush: Feminine, floral & flirty fragrance.
Fresh: Unisex fragrance, fresh, cool, crisp, breezy & light fragrance.
Cherry: Fruity, flirty and sweet – summer fruits & berries fragrance.
Floral: Feminine, summer, bright & lively fragrance.
Dry Shampoo Plus Range  (€5.85)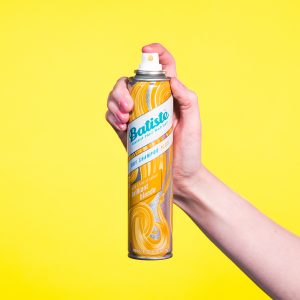 Brilliant Blonde: With a hint of color.  Dry shampoo designed especially for anyone with light coloured hair
Beautiful Brunette: With a hint of color. Dry shampoo designed especially for anyone with brown hair
Heavenly Volume: Instantly refreshes with show-stopping volume.
How to Apply Batiste Dry Shampoo
In order to get the best out of Batiste dry shampoo, please take note of the following: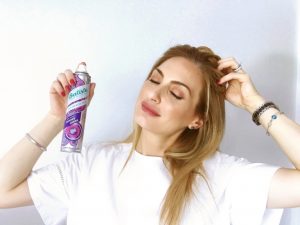 1 – Shake dry shampoo and hold the can around 8 to 12 inches away (20-30cm).  Spray at the root on the parting line and in smaller sections below to cover the whole head if required.
2 –Gently massage roots.  If extreme volume is required, use your hairdryer on the cool setting on the roots.
3 – Style hair as required.
Top Tips
Do not spray too close – This can cause unnecessary buildup and white residue.
Less is more – Build up slowly if required.
Apply only to dry hair.
Do not rub in immediately – Allow it to do its job and absorb the excess hair oil.
Using Dry Shampoo is not an excuse not to wash our hair frequently – after we have reached for the dry shampoo three to four times, it is time to take a shower.
Where to Buy?
In Cyprus, Batiste is available in Alpha Mega, Athienitis, Debenhams, Metro, Papantoniou, Sklavenitis and other hypermarkets & supermarkets. Also available at all pharmacies.
Distributed by A.J. Vouros Ltd 22-879922.