Improve Skin Pigmentation Overnight with Alpha-H
Achieve A Brighter, Revitalised Complexion
Alpha-H skincare combines active natural ingredients and the latest in scientific technology to bring a range of skincare and anti-ageing products to help achieve a brighter, revitalised complexion.
Who Are Alpha H?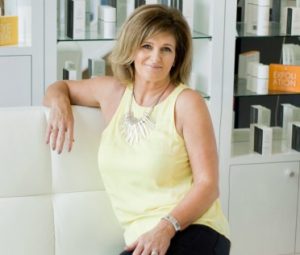 Alpha-H is an Australian owned and operated, founded by a lady called Michelle Doherty.  She created Alpha-H because she was suffering from cystic acne at the time and she could not find anything that would irradiate it permanently, not even antibiotics.
Alpha-H is instant results, multi-tasking, exfoliation, well priced; all the key elements that a consumer is searching for. Alpha-H is now a global phenomenon, stocked in over 25 countries including prestige clinics, exclusive day spas, QVC, cosmetic giant Sephora, department stores Marks & Spencer, Myer and Harvey Nichols and a selection of premium airlines including British Airways and Virgin Atlantic
Why Alpha H?
Alpha-H are considered a global leader in corrective and preventative skincare, Alpha-H creates revolutionary cosmeceutical formulations, which help bridge the gap between the beauty counter and invasive treatments.
For over 25 years, Alpha-H have established a cult reputation for thinking outside the box and challenging the traditional.  Their ingredient combinations of glycolic acid, vitamins and peptides along with hyaluronic acid feature as staples in their formulations along with the correct percentages and pH levels so that we see a difference in our skin safely and quickly.
Alpha-H banishes blemishes, unify uneven skin-tones and restores a radiant, youthful glow to our skin every time!
How To Begin With Alpha-H
I am frequently asked about skin pigmentation and how to improve it.  The best piece of advise I can give you is to wear SPF daily.  This will inhibit any facial skin tone change and protect you from UVA and UVB damage.
Once the damage has occurred, we need to start gently resurfacing and then SPF is a must!
Here are two products which you can add into your current skincare routine that will help:
1 – Liquid Gold Resurfacing Cleansing Cream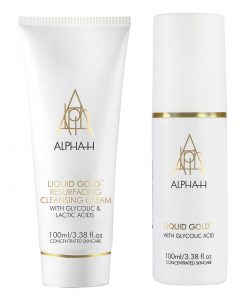 The Liquid Gold Resurfacing Cleansing Cream is the perfect first step in any skin care ritual; eliminating make-up and grime and kick-starting sluggish cells without upsetting skin's delicate pH balance.
This is a rich, creamy consistency infused with shea butter, coconut oil, glycolic acid and lactic acids, to achieve thoroughly cleansed skin, lock in moisture, whilst the AHAs resurface skin without any abrasion, and encourage collagen synthesis to give us smoother, plumper skin with fewer visible fine lines and wrinkles and leaves the complexion looking soft and smooth.
How To Use
Use morning and night. Dampen face and apply cleanser. Massage over the entire face, avoiding the eye and lip areas, and remove with a warm damp face cloth. Use in conjunction with a minimum of SPF 30+ protection during the day.
If your skin becomes delicate start by using it twice a week and build up.
2 – Liquid Gold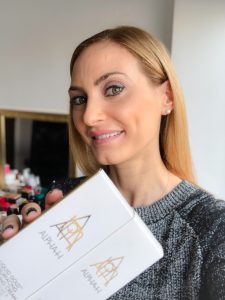 A cult product among industry insiders, Liquid Gold is renowned as an 'overnight facial', gently exfoliating tired and dull complexions and plumping the appearance of your skin while we sleep, helping to refine the appearance of enlarged pores and skin texture. Wake up with a brighter-looking, revitalised complexion.
Liquid Gold is an overnight treatment with 5% glycolic acid that harnesses the cell-stimulating and exfoliating properties of alpha hydroxy acids, which melt the 'glue' that binds dulling dead cells to skin's surface, revealing the healthy 'new' skin cells beneath. It lowers skin's pH from 5.5 to around 3, stimulating cellular activity, accelerating the repair and renewal processes.
Liquid Gold:
Reinforces the synthesis of elastin and collagen (the 'scaffolding' that keeps skin firm).
Penetrates deep within pores to eradicate spot causing bacteria.
Resurfaces the skin helping to diminish visibility of acne scars, dark spots and brown patches and reveals a more even-toned and luminous complexion.
How To Use
Apply to cleansed skin every other night. Do not use toner beforehand. Moisten the cotton pad with solution and apply evenly over the face, neck and décolleté, avoiding your eye and lip area. For an intensive treatment leave on overnight without applying a night cream over the top. Use in conjunction with a minimum of SPF 30+ protection during the day.
Application tips: 
Sensitive skin: apply Liquid Gold to a dampened cotton pad to minimise the tingling sensation and start by using it just two nights a week; then after two weeks, graduate to using a dry pad. This gives your skin time to adjust to the treatment.
Resistant skin: forego the cotton pad and simply apply 3-4 drops of the solution directly onto your skin
At the moment, you can buy these products as a duo set from Cult Beauty at a special price.
If you have any questions, please send me a message.