Summer is here and in Cyprus that means hot and humid weather.  No matter how hot it is, pregnant or not, we all want to look polished, healthy and have that beautiful, natural summer glow.  The key to creating this look is not to use too many products, less is more and apply products in finer layers.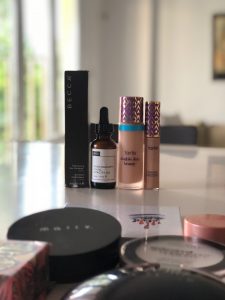 The most important stage for this look is the choosing the right primer.  Getting the primer right means requiring very little else, just a touch here and there to create a beautiful summer finish that stays put all day and night.
Primer – BECCA Shimmering Skin Perfector in Opal & NIOD Photography Fluid Opacity 12% (1 pump of BECCA and add to it 1-2 drops of Photography Fluid and mix together before applying to face.
Foundation – Tarte Shape Tape Hydrating Foundation in Light-Medium Honey (4 small dots, 1 to each area area – forehead, cheeks and chin and blend).  You may be tempted to apply more, don't!
Eye Primer – BECCA Under Eye Brightening Corrector.
Concealer – Tarte Shape Tape Contour Concealer in Light-Medium.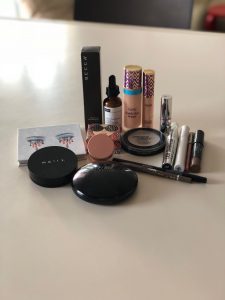 Powder – Ingrid Cosmetics Professional Translucent Powder.  Use a large headed brush and apply a small amount to the brush and tap off the excess.  It is important to tap off the excess in order to get a very light and even powdering.  For anyone with very dry skin, powder may not be required.
Brows – MODA Waterproof Eyebrow Pencil in Brown (from Jumbo).
Eyelid – Laura Geller Eye Dew Cream Shadow Crayon in Pewter (brown with silver flecks) applied with a brush over the lid and into the socket crease.
Eyelid – Kylie The Bronze Palette.  Applied 'JASPER' under the brow and 'GOLDSTONE' to the lid over the top of the shadow crayon to give a more defined look and into the socket.
Blend – Once colours have been applied, it is important to blend to give a softer look and feel to the eye.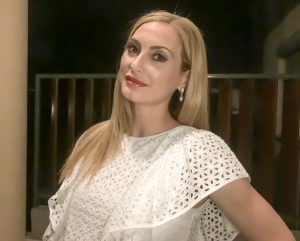 Liner – If this is a day look, then I would advise using a touch of shadow as a very soft liner.  However as this was an evening look in my case, I used a touch or Laura Geller Inkcredible Waterproof Gel Eyeliner Pencil in Blackbird and then softened it with 'BRONZITE' a rich brown from the Kylie palette.
Lash Primer – Tarte Opening Act Lash Primer.
Mascara – BareMinerals Lash Domination Volumizing Mascara.
Bronzer – Laura Geller Baked Balance-N-Glow in Tan (just a touch).
Blusher – Benefit Cosmetics GALifornia (just a little).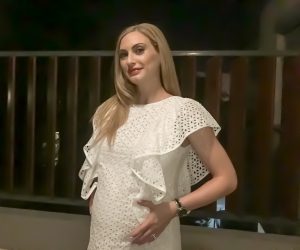 Highlighter – Mally Effortlessly Airbrushed Highlighter in Stardust applied to just below the brow bone, a dab in the middle of the eye lid and to the top of the cheek.
Lip Pencil – L'Oreal Paris Contour Parfait Lip Pencil in 655 Rose Beige.
Lipstick – IT Cosmetics VITALITY Lip Flush Stain in Damsel.
Setting Spray – Pixi Makeup Fixing Mist.
Hair – Seamless1 Peptame Treatment at Artemiou Hair Designs in Limassol.
Dress – Imperial Fashion from OSE Boutique in Limassol.
If you have any questions, please send me a message.