We all need a little pick me up and this includes our hair.  Our hair generally takes a daily battering from the weather, styling, hormones and, waiting too long in-between hair cuts.  Anyone interested in beauty knows that hair treatments are an essential way to give our hair a boost and yet when was the last time you actually applied one?! Gliss 4-in-1 Masks: A mask for every hair problem.
What is a Hair Mask?
A hair mask is a deep conditioning treatment that helps to heal damaged hair. They contain rich ingredients such as natural oils and lipids, in heavier concentrations than normal conditioners. A hair mask is intended to be applied for an extended period of time, from three minutes to overnight. Even if our hair is generally healthy, hair masks help our hair to look and feel even better.
When to Apply a Hair Mask?
A hair mask should be used we shampoo and before conditioner. This allows the mask to do it's work, to shut down the outer hair follicles, sealing in all the nutrients the mask delivers. The hair mask corrects and then the conditioner seals in the benefits of the mask.
How Often Should we Use a Hair Mask?
A hair mask can be used twice a week for those needing more love, or weekly,  to even once a month in those cases where the health of the hair is being maintained.
How to Apply a Hair Mask?
A hair mask should be applied to washed and towel-dried hair. Spread the cream evenly throughout your hair, piece by piece. Massage the product in from the roots to the tips then comb through your hair with your fingers or a wide-tooth comb. To optimise the mask's effects, apply a hot towel for at least 10 minutes, allowing the mask to be absorbed more easily. Leave the mask on for the time length recommended on the product which is usually 10 to 20 minutes.  Then, lather with cold water before rinsing gently.
Which Hair Mask to Apply?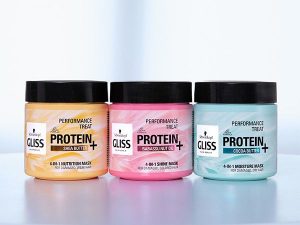 Gliss 4-in-1 hair masks are an excellent choice.  They offer intensive hair care for:
Pink – This hair mask with Babassu nut oil is ideal for damaged, coloured hair. The protein and Babassu nut oil gives coloured hair radiance and makes it shine. The treatment also helps prevent split ends and leaves hair feeling supple and soft.
Yellow – The hair mask with protein and shea butter helps with damaged and weakened hair. This mask is ideal to strengthen our hair's structure, provide it with plenty of care, thanks to the ingredients of Protein + Shea Butter.
Blue – The hair mask with protein and cocoa butter moisturises your stressed and dry hair. Formulated with protein and cocoa butter, this mask has a moisture-balancing effect. It moisturises and strengthens while protecting the hair from split ends.
It's important that the hair mask is tailored to your hair type to give your locks the best possible care.
Why is it 4-in-1?
This mask can be used as a pre-shampoo, conditioner, mask and/or leave-in treatment.
My Opinion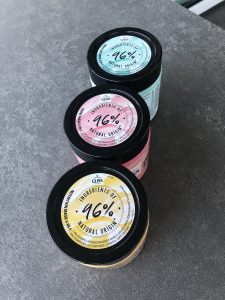 I love hard-working, multi-tasking products and that is exactly what the Gliss 4-in-1 masks are.  Consisting of 96% natural origin ingredients and are vegan.  These are power treatments, enriched with protein and other carefully selected ingredients to treat and help protect our hair.  The texture is fluid and easy to apply.  The Babassu Nut Oil infused Shine Mask (pink) is slightly thicker than the other two. The Nutrition Mask (yellow) is the mask I take with me to the beach. And my favourite mask out of the three is the Moisture Mask (blue); from the smell to the fluidity to the result, this mask is divine and real pleasure to use.
Top Tips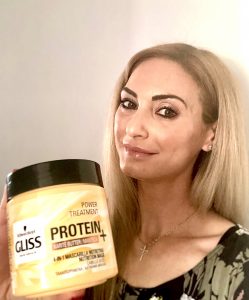 Living in Cyprus means that my hair is exposed most of the year to extreme sun, heat and salt water. My saving grace and top tip is to apply my hair mask before going to the beach and on days when I know I will spend a lot of time outdoors.  I also reapply my hair mask at the beach and after every time I swim in the sea or pool.  Trust me, if your hair is dry or processed, this top tip works wonders and greatly reduces any further damage to your hair.
My other top tip, once hair is dry and styled,  apply a very small amount to the ends of the hair.  This will ensure that the ends stay hydrated and help prevent them from splitting.
If you are interested in Vegan, read my article on Vegan Skincare.
Where to Buy
These masks are brought to us by Henkel and are available in supermarkets across Cyprus.
If you have any questions, please send me a message.