Getting Baby Ready
Bags Packed For The Clinic
This article has become very special to me for obvious reasons, I was working on this article before being told by my Gynaecologist, Dr Marios Liasides, "Christina mou, you are in labour!".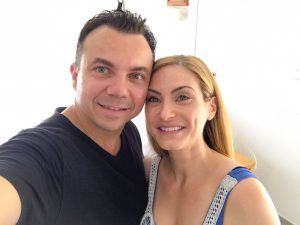 I am now 39 weeks pregnant (20th August), officially on maternity leave, and am waiting day by day to see when #babykyriakidou will make her appearance.  Most people say to me that I am lucky and that I had an easy pregnancy.  Overall it has been a 'good' pregnancy but it has been very tough one emotionally, especially at the beginning.
For other first time mums, I can not tell you yet whether what I have packed for the clinic is right or not, but I will be able to in a couple of weeks.  Today, I will tell you what I have packed and it is a combination of a few lists from different sources.
In my mind, I thought I would get a definitive list from my gynaecologist on what I need.  To be fair, I did get a list of what both and I and the baby needs but it does not go into detail into how many of each item is required and there were a few things missed off that they asked me to add.  Mothercare on the other hand, gave me a more comprehensive list of the 'essentials' for mother and baby.  My pregnancy books, also have their own lists inside with what to pack.
When To Pack
At least this was one thing that all my sources agreed on, bags need to be packed four weeks ahead of the due date.  Of course there will be last minute items that will be added like a phone charger but the main items need to be in and ready.
What To Pack
The below is based on a 3 night stay at the clinic
For Mummy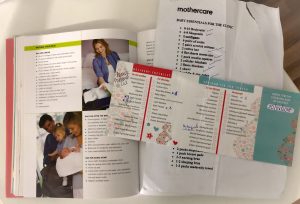 1 x Cabin Size Suitcase.
1 x Dressing Gown.
2 x Night Dresses which button down (easier to breastfeed)
1 x Slippers & 1 x Flip flops (for the shower).
2 x Boxes of Disposable Maternity Knickers and 2 x Regular (one size larger than usual size in order to fit comfortably the maternity pads).
2/3 x Maternity Bras.
1 Box x Chicco Disposable Breast Pads (I bought a few brands to test them but I have packed the Chicco box as it was the smallest box for the clinic).
1 Box x Mothercare Maternity Pads (I bought 2 boxes as 1 box may not be enough for the first few days however I only packed 1 box for the clinic).
Toiletry Bag – Toothbrush, toothpaste, cleanser, toner, facewash, skincare, haircare, hairbrush – all travel sizes for the clinic.  I have not packed makeup however I did sneak in a concealer just in case I need a little helping hand.
Tissues – 2 packs of pocket size tissues and 1 travel size pack of gentle wipes.
1 x bath towel, 1 x face towel and 2 x flannels.
1 x Apivita Almond Natural Oil – This can be warmed and massaged on to the lower back during labour to help ease the pain and also on face, hair and body after labour to nourish.
1 x Octiset Antiseptic Spray.
1 x Octensisan Antimicrobial Wash Lotion.
1 x Betaisodona Antiseptic Solution (for stitches).
1 x Octenisept Wound Gel (for wounds and burns).
1 x Eubos Feminine Washing Emulsion For Intimate Hygiene.
1 x Kyriakides Mushrooms Power Bank (to keep the phone charged).
For Baby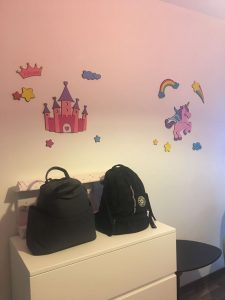 I could not fit everything for the baby in one bag and I did not want to use a cabin size suitcase that has been used previously as there is no way that I am aware of to sterilise it for the baby.  Instead, I packed 2 bags.
All baby clothes, blankets, towels, flannels, muslim cloths and bed sheets have been washed with baby washing powder and conditioner and then ironed so as to keep to reduce any potential reaction with baby sensitive skin.  Please do not forget to iron as it is the ironing stage will kills any harmful bacterial if present.
Baby Bag 1
1 x Tots Baby Bag
5 x Cotton Short Sleeve Vests
3 x Long Sleeve Baby Grows
6 x Baby Bed Sheets
1 x Light Blanket
3 x Bath Towels
6 x Pairs of Socks
Baby Bag 2
1 x Pampers Box Size 1 (44 nappies)
1 x Pack of Baby Wipes (Event Baby Wet Wipes with Calendula for 0+ Months)
1 x Eubos Liquid Red (Body Wash)
1 x Eubos Sensitive Lotion
1 x Septona Baby Calm 'n' Care Protective Cream
Find out in my next article, what I actually needed for the clinic and how many of each.