Shu Uemura Art Of Hair
In Salon Treatment At Artemiou Hair Designs in Limassol
Christos Artemiou has been my hairdresser now for the last 18 months.  I love his talent, his passion for hair and how humble he is.  When Christos told me that he has now brought the SHU UEMURA ART OF HAIR range and the treatments to the salon, I got very excited.
Shu Uemura was a Japanese makeup artist and founder of the cosmetics line which bears his name.  He was a creative force in the cosmetic world and developed products that respect skin health and enhance natural beauty.  His philosophy was love the skin that you have, protect it and amplify it.  Before he died in 2007, he created the Art of Hair.  Hair is integral to a woman's beauty.  The Shu Uemura Art of Hair brings together the artistic touch, the intelligence of nature and natural ingredients and the integrity of science and delivers products and in-salon experiences which create a new level of hair and mind balance and health.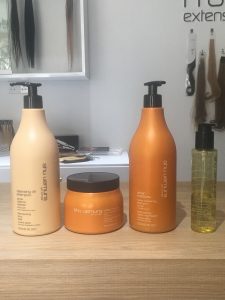 I was very lucky to be treated to such an amazing in-salon experience recently and I wanted to share my experience with you.
In-Salon Nourishing Treatment
Products used:
Essence Absolue Nourishing Protective Oil
Cleansing Oil Shampoo
Urban Moisture Hydro-Nourishing Shampoo
Urban Moisture Hydro-Nourishing Treatment Masque for Dry Hair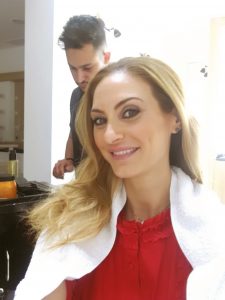 Treatment Step 1
SHU UEMURA ART OF HAIR Essence Absolue – this nourishing, protective and lightweight oil is infused with rich camellia oil to help protect the hair fibre against dryness, frizz and UV damage.
This oil is amazing and offers intense nutrition and protection against sun damage. Hair is left easier to detangle with a unique healthy shine and a supple touch.  This product can be used as a pre-shampoo treatment and/or  as a leave-in product.
Shu Uemura Essence Absolue Oil

1 to 2 pumps depending on hair length is applied from roots through to lengths as a pre-shampoo treatment.

Massage scalp and hair allowing the Essence Absolue to penetrate the hair and take the time to relax and breathe.
Treatment Step 2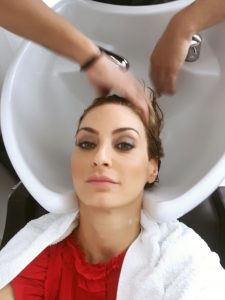 SHU UEMURA ART OF HAIR Cleansing Oil Shampoo for All Hair Types is a delicate hair treatment to balance and refresh, free from parabens and silicone.
This uplifting shampoo with 'Yuzu Cal' fragrance of Citrus and Yuzu flowers,  leaves hair feeling supple and shiny with enhanced vitality and movement.  The fragrance reflects it's effect on the hair.  This can be used as a daily shampoo if required or a once a week pre-cleanse treatment  before your preferred shampoo and conditioner.
Apply to wet hair, massage and then rinse thoroughly. For oiler scalps, repeat.


Treatment Step 3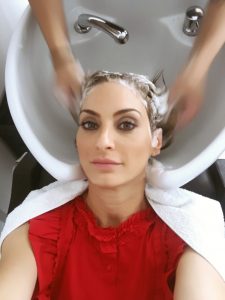 SHU UEMURA ART OF HAIR Urban Moisture Shampoo is a lightweight formula developed for dry hair under urban aggressors. This shampoo refreshes and revitalises the hair and is infused with Moringa Oil and Red Algae Extract which is often used in high-end skincare products.  This luxurious shampoo gently eliminates pollution and impurities, whilst replenishing moisture to leave hair soft, smooth and healthy from root to tip.
Hair is left purified, protected and strengthened after use.
Apply to wet hair, massage and rinse thoroughly.
Treatment Step 4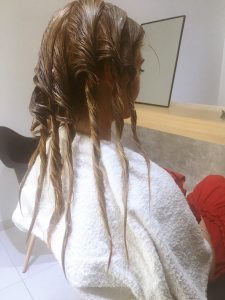 SHU UEMURA ART OF HAIR Urban Moisture Masque is an intense treatment developed for sensitised, dry and damaged hair.  This masque harnesses the nourishing powers of Moringa and Red Algae Extracts, and works to replenish and revitalise lack-lustre strands, whilst improving manageability and detangling to leave hair soft, smooth and healthy-looking from root to tip.
Apply to clean, damp hair. Leave on for 5-10 minutes. Rinse thoroughly once time is up but not before Step 5 is complete.
Top Tips:
Apply 2 pumps of the Essence Absolue Nourishing Oil and mix into the masque before applying to the hair for a more intense treatment.
Apply to small sections of the hair (roughly 6 to 8 sections) and work into the hair and then twist.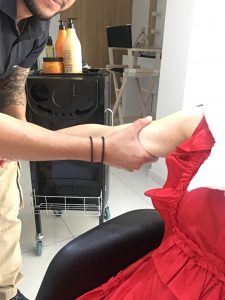 Treatment Step 5
This stage of the treatment is ultimate bliss and is done while masque is left on the hair to do its magic.
Using the Essence Absolue Nourishing Oil, your therapist will give you an incredible massage – neck, shoulders, arms and hands.
Treatment Step 6
Once massage and masque time is complete, carefully make way back to the wash basin for masque to be removed thoroughly.
Treatment Step 7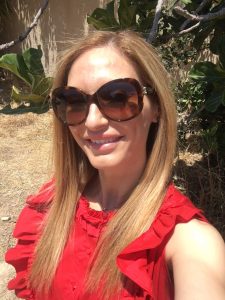 Treatment price
The cost of this in-salon treatment is €60 and it is pure heavenly indulgence for hair, mind and spirit.
My hair looked and felt soft and healthy after the treatment.   Make sure you do not have something to do or somewhere to go afterwards and enjoy the tranquility that this treatment invokes.
If you are in Limassol call, Artemiou Hair Designs for your Shu Uemura Art of Hair appointment on  77 776009.
Artemiou Hair Designs Facebook: https://www.facebook.com/artemiouhairdesigns/
Artemiou Hair Designs Website: https://artemiouhairdesign.com/
Thank you Christo and Loizo for the amazing treatment and for helping me hit the reset button to a more calm and relaxed mind at least for the afternoon anyway.
This treatment is safe to do during pregnancy.
If you have any questions, please send me a message.