NIOD Sanskrit Saponins
Intense Cleaning Balm for the Face
NIOD (Non-Invasive Options in Dermal Science) is a whole new genre in skincare; sophisticated, next-generation formulations of serums, hydration creams and products that have been created to improve the integrity and health of our skin with result-driven and scientifically proven products.
Sanskrit Saponins (SS)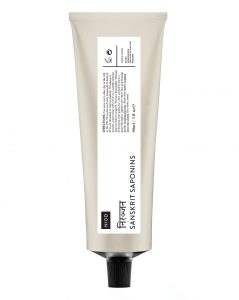 SS is a deep cleansing balm contains natural saponins (plant chemicals) derived from Ayurvedic plants that maintain the skin's balance while deeply cleansing it. Containing no synthetic surfactants, sulphates or oils, the pH-balanced formula clears dead skin cells without peeling, targeting all forms of build-up and cleaning pores intensely to leave our complexion exceptionally clear.
This second-step cleanser gives an intense cleanse that takes away all forms of build-up, blemishes, congestion and impurities from the skin.  It is suitable for all skin types including dry, oily and sensitive. This revolutionary cleanser removes all skin-damaging presences, saponins also help to cleanse away impurities, dirt and oil without stripping the skin so that our complexion is refreshed and renewed. With its pH-balanced formula, this brilliant balm doesn't upset the skin's natural balance and is gentle, acting without the aggression of some cleansers. Even after one use, pores look minimised and skin feels noticeably clearer.
This product is safe to use during pregnancy and whilst breastfeeding.  If unsure patch test or consult your doctor.
How To Use
Unlike most cleansers, the NIOD Sanskrit Saponins is only to be used once every other day, thanks to its powerful detoxifying abilities. As it works to really give the complexion a deep clean, it needs to be alternated with your regular cleanser to prevent over-stimulating the skin.  The most important thing to remember when it comes to using this product is to always use it as our second cleanse; it does not remove makeup. In order for it to deliver a deep clean, it needs to be used on clean, make-up free skin.
Follow the steps below:
Remove makeup with a first cleanser.
Massage the cleanser into your hands to warm it up.
Rub onto dry, cleansed skin (avoiding the eyes) and massage in for 3 minutes to really work the cleanser into pores.
Rinse thoroughly, keeping eyes closed and then dry with a towel.
Tone the skin.
Follow with skincare regime.
My Opinion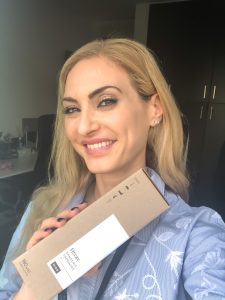 I adore this cleansing balm.  What makes it so special is that it is such a hard-working and effective product, all we need to do is apply it! My skin feels smoother and my pores are more clear when I use this cleanser without any feeling of tightness or skin irritation.  This is now a regular staple in my cleansing routine and I even bought the super-size when I was visiting Budapest on the weekend.
Full Ingredients List
Aqua (Water), Sapindus Mukurossi Fruit Extract, Stearic Acid, Arginine, Glycerin, PPG-26-buteth-26, PEG-40 Hydrogenated Castor Oil, Polysorbate 60, Sodium Polyacrylate, Acacia Concinna Fruit Extract, Balanites Aegyptiaca (Desert Date) Fruit Extract, Gypsophila Paniculata Root Extract, Trisodium Ethylenediamine Disuccinate, Sorbic Acid, Potassium Sorbate, Sodium Benzoate, Phenoxyethanol, Chlorphenesin.
Where To Buy
There are many official DECIEM / NIOD stockists, however, if like me you prefer to buy the supersize, then I buy it directly. It is available in 90ml size for €27.00 or 180ml size for €41.00.
It is also available on Cult Beauty in the 90ml size for £21.00.
If you have any questions, please send me a message.