Me, Myself & Decléor Cica Balm
DECLÉOR Cica-Botanic Balm 50ml
We are affected by stress in many different ways and often it can be seen in our skin.
The constant worry of COVID-19 has really been visible on my face and it is cortisol, the primary stress hormone, that is to blame for this. Normally, cortisol levels oscillate by our internal circadian rhythm, which is a natural, internal process that regulates the sleep-wake cycle and repeats roughly every 24 hours.
When we're stressed, our cortisol levels are disrupted, this can cause acne and exacerbate conditions like eczema, psoriasis, rosacea and atopic dermatitis. When we have consistently elevated levels of cortisol, it has a catabolic effect on the body.  This means that internally, we are breaking down and failing to repair tissues, which leads to decreased collagen and elastin production.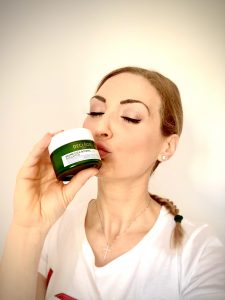 I am having more hormonal breakouts at the moment; one of which developed into a cyst on my chin.  I felt like I had another person attached to my face similar to the Elephant Man. When our skin is reactive, it is important to have products on hand to help soothe and hydrate which have been developed specifically for delicate and sensitive skin.  This is where a cica balm comes into play.
What is Cica Balm?
A cica balm or oil is an ultra-nourishing product that is enriched with Centella Asiatica. Rich in antioxidants and loved for its soothing, healing properties, Centella Asiatica gives cica balms their luxurious texture and deeply hydrating quality.
This wonderful ingredient is perfect for sensitive and inflamed skin and delivers high levels of essential fatty acids to strengthen the skin, provides protection from environmental damage, and offers a boost of hydration.
DECLÉOR Cica-Botanic Balm 50ml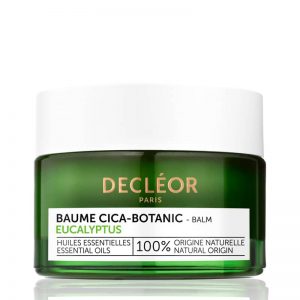 The Cica-Botanic Balm is Decléor's 100% natural-origin face and body balm to visibly repair dry to very dry skin and durably protect it from any discomfort: itchiness, irritation, and redness.
This multi-purpose repairing balm combines Centella Asiatica to reduce skin irritation and enriched with the powerful essential oils of Eucalyptus, Rosemary, Niaouli, and Geranium to soothe, repair, and protect.
This unique balm texture is made of natural waxes to act from the inside and protect the skin from the outside. It turns into an oil when massaged onto the skin, leaving it more comfortable. The skin is nourished and protected from dryness. It feels soothed and repaired. My skin is softer, calm, and more elastic, with improved quality and clarity.
In a consumer test in 2018, under dermatological control, 79 subjects suffering from dry skin discomforts in France reported the following results:
100% of consumers found their skin was nourished and extreme dry patches were relieved
93% found their skin was less irritated and more comfortable
My Opinion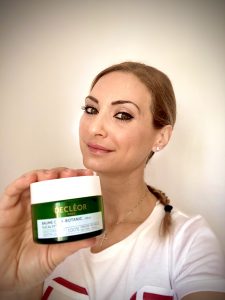 I adore Decléor as a brand and their products.  The range is going through a face-lift at the moment (excuse the pun) and some formulations have been improved.  Decléor are a botanical beauty brand and harnesses the incredible skincare benefits of natural origin essential oils, leaving the skin healthy and glowing. They utilise a high concentration of pure active ingredients, and their aromatherapy-based skincare formulas are enjoyed in spas across the world. I consistently use Decléor products in my routine and have done for 20 years.
The Decléor Cica Balm is another staple in my beauty regime; it is skincare SOS encapsulated and the perfect accompaniment to anyone with sensitive or reactive skin.  It is a must!
It is also safe to be used during pregnancy.
If you have sensitive skin, see my other article which covers Decléor Harmonie Calm Organic Range which again is perfect for sensitive skin.
Ingredients
Macadamia Integrifolia Seed Oil, Cera Alba / Beeswax, Helianthus Annuus Seed Oil / Sunflower Seed Oil, Butyrospermum Parkii Butter / Shea Butter, Simmondsia Chinensis Seed Oil / Jojoba Seed Oil, Copernicia Cerifera Cera / Carnauba Wax, Eucalyptus Globulus Leaf Oil, Rosmarinus Officinalis Leaf Oil / Rosemary Leaf Oil, Melaleuca Viridiflora Leaf Oil, Pelargonium Graveolens Flower Oil, Cupressus Sempervirens Leaf/Nut/Stem Oil, Tocopherol, Mentha Piperita Oil / Peppermint Oil, Limonene, Citronellol, Daucus Carota Sativa Root Extract / Carrot Root Extract, Geraniol, Linalool, Piper Nigrum Fruit Oil / Pepper Fruit Oil, Citral, Citric Acid.
Where to Buy
Trends Cyprus has a range of Decléor products available to buy online and with a discount (which is always welcome!).
DECLÉOR Cica-Botanic Balm 50ml, usual price is €45.00 and is now available at the reduced price of  €36.00. To buy yours, click here.
If you have any questions or would like to share your experience, please send me a message.