Athina Eleni Now a Toddler
First Time Mum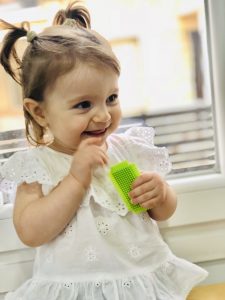 I can not believe that my baby girl is now 14 months old.  It feels like yesterday when I went to the Doctor for my routine appointment with Braxton Hicks and it turned out that I was in early labour. Every day, she seems older, wiser and even more strong-minded. She wants our love, to feel safe and close to us, while also wanting the freedom to do things on her own. Since the Christening, we went on our first family holiday to the UK, Athina-Eleni has started walking and we went on a long weekend away without the baby. Now that #babykyriakidou is officially a toddler, she is active, curious, and for a small person, she already has very strong opinions.
Living With A Toddler
Diet & Nutrition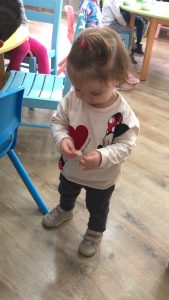 Athina-Eleni, I am relieved to say, has become an adventurous eater. At around the 8 to 12-month stage, she seemed disinterested in food and did not eat a lot.  Since our family holiday to the UK, where we expanded her palette out of necessity, she is now enjoying her food again and our food even more.  Now, whenever we go out for lunch, she wants to eat what we eat, which is great.  She is still drinking milk first thing in the morning and last thing before bed and takes the Hipp Organic Follow-on Milk no.3.
Sleep
Athina-Eleni is a good sleeper overall and I know we are very lucky for this.  On average, she is sleeping around 10 hours per night and only wakes me up when she has lost her dummy. She still needs at least a good two-hour sleep during the day, sometimes more, and often the timings of her sleep mean that I need to adapt my schedule constantly which makes planning difficult.
We did go through a very difficult patch recently due to her teething.  Her first molars are making an appearance.  We are not out of the woods yet but the last few nights have been better.
Talking
Athina-Eleni is desperate to talk! She is constantly talking to herself and anyone else that will listen.  Unfortunately, we are not at the stage where we can understand what she is saying.  The only words we understand at the moment are "Mama" "Papa" "Giagia" "Dada and the most recent word is "Pame" which means let's go in Greek. As a family (both sides), we talk to her in Greek and English so she can understand both languages and I always try to keep a consistent and calm tone of voice when I talk to her.  On occasion, I have raised my voice in front of the baby and her whole body language tenses up which is then followed by tears.   When she talks, I listen without interrupting and nod my head.  I want her to know that I am interested in what she has to say even if I don't understand what that is yet.
Routine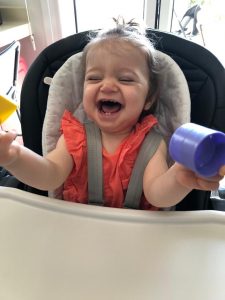 Athina-Eleni loves her routine and when we take her out of her routine, she lets us know that she is not happy and it usually involves me losing my beauty-sleep.  From what I understand, the reason for this is that a routine provides a sense of certainty and security.  Toddlers, in general, thrive on having structure and regular routines to their day. Doing the same thing every day may be boring for us grown-ups, but for toddlers, predictable routines are shown to lower stress, increase confidence and even make them feel smarter. Routines give toddlers a sense of security, a feeling of being smart and a sense of time.
Toys
Anything with blocks or shapes is in at the moment with #babykyriakidou.  She is still putting most things in her mouth but either side of that, she takes the time to play with her toys and she loves music.  Whenever she hears a tune she likes, she sways or bounces to the beat and adds a little head action too which can be such a joy to watch. Her eyes sparkle whenever she sees a mobile phone or remote control so I have bought her a baby version of each so she has her own but they do not have the same appeal.  Often I find myself chasing Athina-Eleni around the living room, trying to persuade her to give me the remote control.
Nursery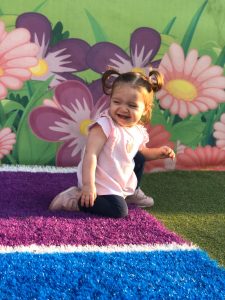 Athina-Eleni has been going to nursery since she was 10 months old and she loves it! We went as a family to choose the right nursery for our baby girl.  We checked how clean the nursery was, the kitchen area, the toilets, and whether the food was included and if so which foods are on the menu.  We also wanted a nursery with outside space.  Our little girl loves to be outside and play so it was important for us that she has this option weather permitting.  We chose to take her to Carousel. The girls there are amazing and I know my daughter is in very safe hands.  As a mother, my instinct would tell me if my daughter was not happy.  I can see from the photos I receive daily and the fact that my daughter often does not want to leave when I pick her up, this tells me that she really enjoys her time there.
Walking
Athina-Eleni started pulling herself up and walking around the furniture at 11 months.  She started walking holding our hands and then fingers at 13 months, and at 14 months, she is walking on her own.  When her little legs get tired, she sits down and often crawls to get to where she wants to go.  Once she feels rested again, she pulls herself up and starts waddling again. She loves her newfound freedom.  I am sure all toddlers are the same but it is so inspiring to see her drive and her motivation to do new things.
Swimming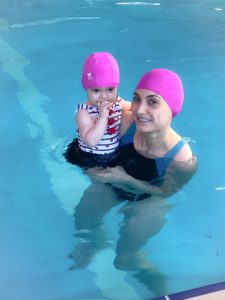 Being a swimmer myself, it is important that Athina-Eleni is comfortable in the water. On a friend's recommendation, I registered the baby at Trittis Sports & Leisure Center in Polemidia. They follow the Birthlight, Cambridge system. Birthlight's methods are designed to create an excellent foundation for the child's future in the water, promoting safe practices and confidence. As well as this, it is an ideal environment for mothers and their new babies to bond, for children to begin to socialise and I get to spend quality time with my baby girl.  Athina Eleni loves it! We have been going now for 2 months and the way she interacts now with water from swim to bath time has changed and she is a lot more water confident.
Tantrums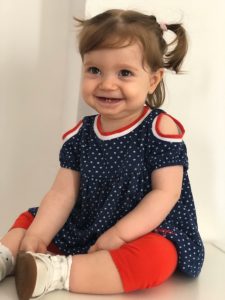 We have not seen many yet, it is more signs of frustration at the moment, but I do understand that tantrums are part of growing up and her asserting her independence.  I talk to myself to remain calm when the frustration surfaces and often try and distract her so it passes.  It does not always work but I will keep trying.
Keeping Her Safe
The best way to keep toddlers safe is to always supervise them, I know this and we do. Still, she has had a few knocks and falls.  The promising thing we have noticed is that when she does hurt herself, she does not seem to repeat the action that caused the pain.  I am sure she is too young to understand but this is how it appears to us from the outside watching in on her world.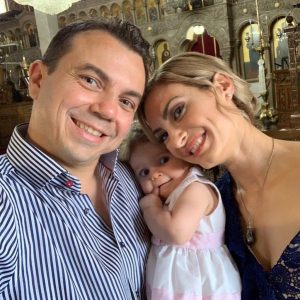 How Do I Feel?
I fall more in love with her day-by-day.  I am enjoying her even more now that she is a little bit older and responsive.  I sing to her, I dance with her, I play with her.  It really is the best feeling in the world!    
If you have any questions, please send me a message.