Important Skincare Tips for 40-Something Skin
5 Steps to Glowing, Youthful Skin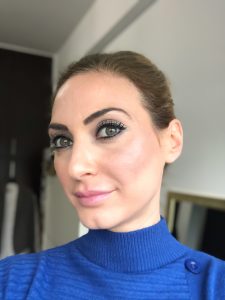 On the 29th December (at 14.00 UK time to be precise), I turn 40! In the approach to the big 4-0, I went to visit a plastic surgeon that I admire to look at my naked skin and asked for his advise on what to do with my skin.  I am constantly on a mission to help myself and others to achieve healthy glowing skin and to slow down the ageing process. We all know that ageing skin is inevitable but there are ways to slow it down if our genetics allow.  The plastic surgeon I am referring to is Dr. Giorgos Psaras.  He is an Adjunct Professor, Academic Chair and Head of the Division of Plastic and Reconstructive Surgery. If you want anything other than an honest opinion and a natural look then he is not your man.  He reassured me that I have skin on a 25 year old and sent me on my way.  I would highly recommend him to anyone wanting a professional opinion from someone at the top of their field. To receive such feedback from George means that I am doing all the right things for my skin but I know I will need to do more going into this next decade.
Skincare in our 40s
It is likely that we will see our first wrinkle in our 40s.  Genetics, sun habits, overall body health and skin care routines all contribute to how the skin ages.  The prevention of lines and sun spots is still the main goal and focus on supporting the proteins our skin needs – collagen and elastin.
Having a consistent skincare routine is essential in our 40s.  To have great skin takes discipline!  The high level summary is cleanse, moisturise and apply sunscreen in the morning and use proven anti-agers like retinol and glycolic acid in the evening.  Remember when applying products, start using the thinnest first and then work up to heavier formulas and use products that deliver moisture.
Our skin can't recover as quickly as it once did from environmental and lifestyle stressors such as late nights, long working hours and poor quality sleep. To address this,  treat the skin to weekly "boosts" such as face masks and exfoliation to increase skin rejuvenation.
5 Skincare Essentials to Follow for Glowing Skin
1 – Use a Hydrating Cleanser
Cleansing the skin on a daily basis is an absolute must. Never go to bed with makeup on the skin. In fact, cleansing our skin thoroughly before bed not only helps to get rid of the day's grime of oil, makeup, pollution and dirt, it also decreases the chance of getting clogged pores. It is also the first step in helping our skin cells repair.  Cleansing balms and oils are fantastic at not only cleansing the skin but also hydrating.
2 – Add an Antioxidant Serum
Antioxidant serums have concentrated active ingredients and are best to use in the morning, after cleansing and toning and before moisturiser and sunscreen. Some even deliver a layer of protection that shields against infrared radiation, which penetrates even deeper than UV rays. To put it bluntly: the combination of a powerful antioxidant plus an additional sunscreen on top equals ultimate sun protection.  The best antioxidant serums also contain hydrating ingredients like hyaluronic acid, algae, and vitamins, while others help protect the skin from premature aging with stellar ingredients like CoQ10 and Alpha Lipoic Acid.
An amazing serum that I have tried lately is Kypris' Natural Antioxidant Dew Facial Serum. It is an all-natural, plant-based serum and seriously effective formula. Loaded with antioxidant-rich vitamins C, E, and ferulic acid, which help keep skin protected from environmental damage.  It also contains sea algae extracts to promote softer, suppler skin, Tamanu oil to encourage cell turnover, which helps reduce blemish scars, and other botanicals to soothe redness and hydrate. The immediate results are a dewy, healthy glow.
Another great alternative and cult favourite is SkinCeuticals C E Ferulic Serum. This is a potent Vitamin C serum that delivers visible anti-ageing benefits. Boasting an antioxidant blend of 15% Pure Vitamin C (L-Ascorbic Acid), 1% Vitamin E (Alpha Tocopherol) and 0.5% Ferulic Acid, the daytime serum envelops skin in a protective veil.
The serum is able to reduce the appearance of fine lines, wrinkles and photodamage, alongside combating loss of elasticity to leave skin firm and youthful and delivers exceptional protection.
3 – Retinol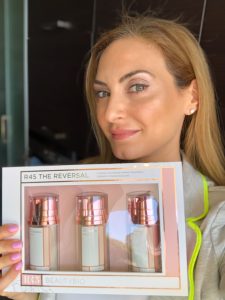 Adding retinol to our routine is a must! It is scientifically proven that topical retinoids (vitamin A) helps with reducing fine lines by increasing collagen synthesis and decreasing collagen breakdown.  Retinol also corrects sun damage and improves skin texture and discoloration by increasing cell turnover.  I love Beauty Bio and their R45 The Reversal Retinol Cream.
An alternative is Skinceuticals Retinol 0.3 Corrective Treatment; a retinol-powered anti-ageing night cream that helps to refine and improve visible signs of ageing overnight, whilst skin is most receptive to repair.
4 – Use a Hydrating Moisturiser and Eye Cream Daily
Face cream is always a must. For our 40s, we can use a more focused moisturiser that helps target signs of aging like fine lines, wrinkles, dark spots and more.  There are plenty out there.  Alpha-H and Decleor are my firm favourites and excellent brands to use.  If you have specific concerns, please contact me and I can help suggest which moisturiser to try.
In our 40s, we can not get away with using the same moisturiser on our face and eyes, it is not enough.  We need to be using an eye cream. Using an eye cream that is formulated with a specific skin type in mind can not only ensure that the eye contour is healthy-looking and radiant, but it can also help diminish the signs of aging.
One of my favourites is the Alpha-H Liquid Gold Firming Eye Cream.  Specially formulated to illuminate the eye area while gently exfoliating, Liquid Gold Eye Cream stars 'Lime Pearl Extract', a new, natural source of gentle fruit acids derived from caviar lime – which is found in the rainforests of Australia's east coast. Abundant in citric acids and bioflavonoids, these mild acids accelerate cell turnover to soften skin and reduce the appearance of fine lines and milia. Exfoliating dead cell build up away also enhances the penetration of the other active ingredients within this formula, including juveleven, a potent hexapeptide that stimulates DNA repair, 'SNAP 8', which relaxes expression lines to help inhibit wrinkles cause by muscle contractions and a complex of seven brightening compounds, including niacinamide, hibiscus petal, cucumber seed, white mulberry, ferulic acid and Hawaiian waltheria indica extract. For immediate illumination, there are tiny particles with a diamond core, which scatter all wavelengths of light to mask dark shadows and grant the entire orbital area a soft-focus effect. As if that wasn't enough to convince us, the ingenious formula is delivered on a cooling metal applicator, which instantly tightens, refreshes and alleviates fatigue.
Another firm favourite of mine is Decléor Peony Eye Cream Absolute.  This eye cream helps to plump the eye contour, moisturise and has an illuminating effect.  This is a non-perfumed eye care is formulated with Peony Lychee, Rhodiola and Cafeina extracts and Adenosine to:
SMOOTH :  number of wrinkles are reduced by 16%. Clinical test performed on 52 women.
FIRM : The eye contour appears + 7% firmer. Clinical test performed on 52 women.
ILLUMINATE : 78% of women feel their skin's more radiant. Clinical test on 51 women.
With its non-greasy and non-sticky texture, Peony Eye Cream Absolute is rapidly absorbed and makes eye contours more plump and visibly rejuvenated with a luminous glow.
5 – Use SPF Daily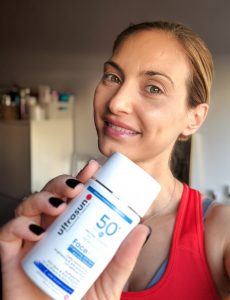 Any dermatologist will tell you over and over again that daily application of a UVA/UVB SPF 30 or more is the ultimate tool to preventing any future damage or signs of aging like fine lines, wrinkles, and age spots.
My favourite is Ultrasun Sun Protection Face Fluid Anti-Pollution SPF 50+.  It is a once a day light formula for the face, décolleté and back of the hands for everyday wear and is designed to be deeply moisturising, to help protect against the signs of premature ageing. Suitable for all skin types and free from oils, emulsifiers and perfumes.
My Opinion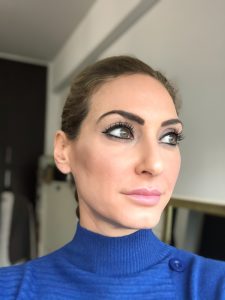 We all need to pay attention to our changing skin needs because when it comes to ageing, prevention is key. The daily use of sunscreen has been clinically proven to help maintain youthful looking skin compared to not using sunscreen every day.  
Prescription retinoid creams can stimulate collagen to slow the signs of ageing, however, people with sensitive skin can use over the counter retinol as a less intense alternative.  For evolving wrinkles around the eyes and forehead, botulinum toxin (Botox, Xeomin or Dysport) can be used in small doses to help prevent wrinkles from getting worse while maintaining a natural look.  
For fine lines, discoloration, and enlarging pores that often begin in our 40's, chemical peels, collagen-stimulating fractionated laser, and broad-band light treatments can be performed to delay the changes associated with aging skin.  Although it is not possible to stop the signs of ageing altogether, it is possible to slow it down significantly when good skin care habits are combined with skin treatments performed on a regular basis.
If you have any questions, please send me a message.