Athina Eleni's Christening
First Time Mum
It only seemed like yesterday that I had my beautiful baby girl and now, she is almost 10 months.  I find myself asking time to stop; she is growing up far too quickly and before I know we will be celebrating her 1st birthday.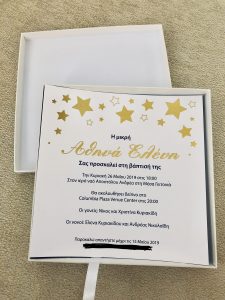 On Sunday 26th May, we christened Athina-Eleni.  It was such an emotional day and over far too quickly. We would like to thank again our family and friends for making it such a memorable event.
The Theme, The Colours & The Invitation
Athina Eleni is my little star so it felt natural for me to choose stars as our christening theme.    We selected off-white and gold as our main colours and we wanted to do something very special with the invitation.  We choose foam board for the invitation and for it to be delivered in its own box.  It was the event of the year for us and we wanted it to be reflected from the invitation and throughout.
The Venues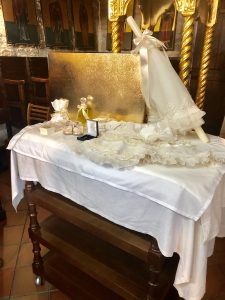 Apostolos Andreas Church in Mesa Geitonia is our family church.  It is where my parents were married, it is where I got married and it was important to me that it was the church that my daughter was christened in.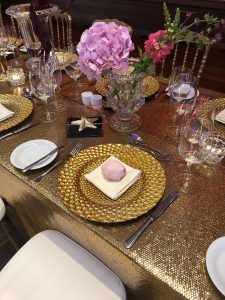 For the dinner, we chose The Venue Centre at Columbia Plaza in Limassol.  The recommendation for the venue came from our planner, florist and friend, Roys Herodotou, and I was thrilled and relieved at the result.
The Dress
Finding my wedding dress was much easier than finding the perfect christening dress for Athina Eleni and I.  I had dreams of having a dress made but the feedback was very off putting; working full time and having a young child does not give me a lot of time for dress fittings.   I had reconciled in my mind that I needed to find something impressive for both of us and ready made.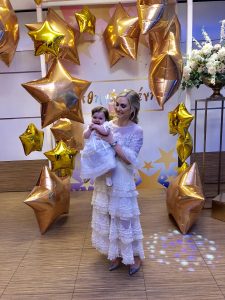 Yzabelle Mitsu was my fairy Godmother and I will forever be grateful.  I reached out to her to see what Mitsu Mitsu would suggest for the christening and Yzabelle sent suggestions in terms of photos and videos.  A few days later, I was in the shop, trying on what she had in mind.  It was love at first sight with the dress.  It was perfect! It encompassed everything I had in mind; sexy, romantic and elegant.  My husband was so impressed that we made a version of the dress for Athina Eleni as her christening dress.  Yzabelle and Panteli, thank you so much for your help, your support and of course the most beautiful dresses for #babykyriakidou and I.
The Cake & The Kerastika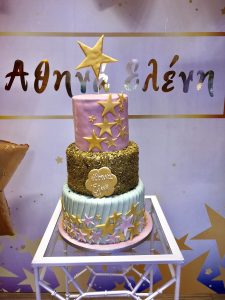 We did not want to have a candy table.  Instead we opted for a three-tier cake which was delicious.  The bottom tier was a Doukissa filling, which is a Cypriot chocolate biscuit cake.  The middle tier was a fruit cake filling and the top tier was a chocolate praline mousse.  It is the best cake I have tasted in Cyprus by far!
The kerastiko is a small, individual wrapped sweet which was given to everyone who attended the christening.  We tried everything The Cake Room had to offer and they were all delicious.  In the end, we chose the Roditiko with cherry filling which was by far my favourite.
The Godparents
We wanted to keep it within the family so we asked one family member from each side; Elena Kyriakidou, Nikolas' sister and Andreas Nicolaides, one of my brothers.  We know they will be great Godparents to Athina-Eleni and we look forward to seeing their bond grow over the years to come.
Did She Cry?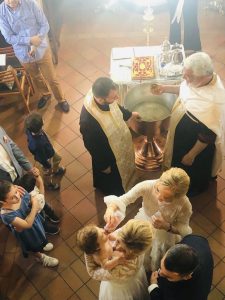 Of course she did.  She cried from the start of the ceremony until the finish.  It was stressful and upsetting to see Athina Eleni so distressed.  Even the Priest, Pater Michalis was trying to help both in terms of soothing the baby and trying to make me laugh.  Balance was restored once the ceremony was over and she was back in my arms but not an experience I will forget any time soon!
Athina Eleni Christening Details
We would like to say thank you to everyone who attended and for making it such a special event.
A very special thank you to Roys Herodotou whose help, organising and guidance made the difference.  Thank you for always being by our side, we love you!
Organiser & Florist: Roys Herodotou, Flowers & Designs.
Invitation: arranged by Roys Herodotou.
Cake & Kerastika: The Cake Room.
Bomboniera: Gold star in perspex glass arranged by Roys Herodotou.
All Decor, Table Arrangement & Flowers: Arranged by Roys Herodotou.
Photographer: Antonis Ioannides.
Athina Eleni Christening Dress: Mitsu Mitsu.
My dress: Mitsu Mitsu.
My Shoes: Christian Louboutin.
Hair: Christos Artemiou.
Makeup: Christina Maria Kyriakidou.
If you have any questions or would like to share your experience, please send me a message.