Fifi and Friends
Natural Products We Can Trust
I am very passionate about natural skincare for all the family.  I was very excited to hear about Tamara Ecclestone's all natural baby care range and even more excited to find out that the range is now available in Cyprus through Okiddoky.
Fifi & Friends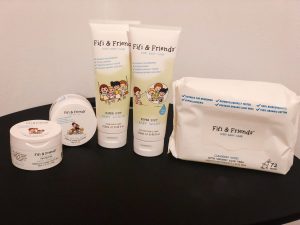 Named after Tamara's daughter Sophia ('Fifi' for short), Fifi & Friends was inspired by Ecclestone's own journey into parenthood.  Initially launched as an online hub offering advice and support across the various stages of parenthood, Tamara swiftly extended her beauty knowhow, developing a range of all natural bath and body products exclusively for babies and children.
Fifi & Friends only use the most effective and natural ingredients possible, suitable for even the most sensitive skin. All products are hypoallergenic, dermatologically tested, and free from parabens, sulphates, silicones and wheat. The range includes organic aloe vera, organic coconut oil, avocado oil and sweet almond oil.  These products are suitable for newborns and are vegan friendly. Fifi & Friends are formulated in the UK to reduce its carbon foot print.
As a first time mum myself, I feel a great sense of relief and reassurance knowing that I am using the best possible ingredients on my baby girl's skin.
Which Products Have I Tried?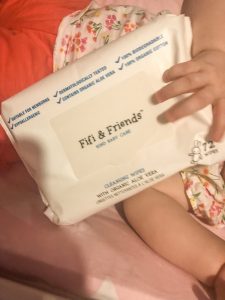 Made with 100% biodegradable organic cotton, Fifi & Friends' Organic Aloe Vera Cleansing Wipes gently cleanse and freshen baby's skin without drying. Infused with organic Aloe Vera, they are suitable for even the most sensitive skin.
€8.00
Suitable for everyday use, Fifi & Friends' Gentle Nourishing Baby Shampoo is infused with organic Aloe Vera to cleanse and nourish for healthy and shiny hair. Gentle enough for newborns, it is formulated with a unique tear-free formula to ensure happy eyes.
€13.00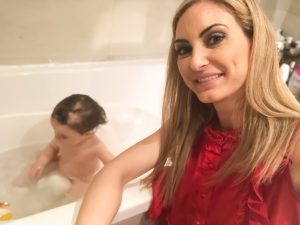 Fifi & Friends' Super Soft Baby Wash is ultra mild and delicately cleanses even the most sensitive skin. Gentle enough for newborns, it is formulated with a unique tear-free formula to ensure happy eyes.  If your baby does not have a lot of hair, this can double-up as a baby shampoo.
€13.00
This highly protective and preventative Bottom Butter is ideal for daily use to soothe and protect skin from diaper rash.
€13.00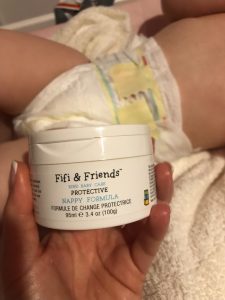 This kind yet effective nappy formula protects your baby's bottom by creating a durable barrier. It contains Zinc oxide, an astringent which reduces the loss of tissue fluid, aids new tissue growth, and prevents inflammation. Zinc oxide is also used to help heal delicate skin naturally.
€16.00
Fifi & Friends Super Soft Baby Lotion is made with softening organic Aloe Vera to hydrate and protect, leaving skin nourished and supple.
€13.00
My Opinion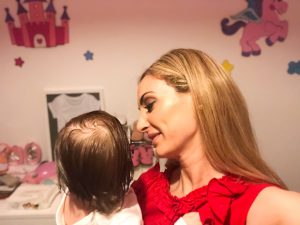 Fifi & Friends is a clinically tested baby and toddler care collection that offers gentle yet effective care. Suitable for even the most sensitive skin, the collection is safe and natural, filled with all the essentials for our little one's skin and hair needs.  I thoroughly recommend you try this range.
These products are not cheap, and they don't look it either. I like that.  I appreciate that these products are a considered purchase but in my view, my baby's skin health is worth it and you only need to use a small amount making them economical.
One of my bug bears when it comes to baby wipes is when they come out in clumps.  It is such a waste!  Although the Fifi & Friends Cleansing Wipes are expensive, I was thrilled that they come out one at a time. They are a lot drier in comparison with other brands I have tried however they are a thicker texture which makes them more effective. I have even found that I am using a lot less wipes which is an achievement in itself.
I love the smell of these products.  Do not expect heavily perfumed, artificial smelling products.  The Fifi & Friends range deliver a true baby scent; delicate, natural and clean.
My Top Tip
My top tip is only use a very small amount with these products.  It took me a few tries to understand the concentration and quality of these products and I wasted a little along the way.  If you follow my advise, and only use a dab, these products will last a very long time.
To find out more about Fifi & Friends and see the range, visit Okidokky.
If you have any questions or would like to share your experience, please send me a message.