Australian Bodycare Skin Wash
The Best Selling Antiseptic Hand & Body Wash
There has been a delay since my last article due to COVID-19.  With everything going on in the world, I did not feel like writing.  It seemed meaningless when so many people are ill or worse.  Thank you for all your messages asking for help and advice.  This article is dedicated to you and I promise to keep the articles coming as long as you keep wanting them.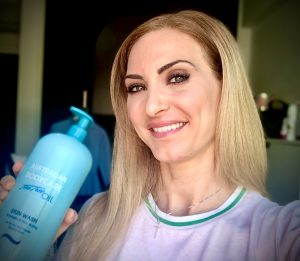 Anyone that really knows me or has stayed at my home, knows that I love my Australian Bodycare Skin Wash.  I love it so much, I only buy it anymore in the big litre bottles and I have it in all three fragrances – Original, Citrus and Lavender.  This iconic skin wash is perfect for all skin types, for all seasons and for everyone over the age of 2 years old.
In this unprecedented time,  we are constantly wash our hands; this is the perfect antiseptic wash.
Australian Bodycare
The company, Australian Bodycare, are experts in tea tree oil skincare products, 100% vegan and dermatologically tested by experts. They only use Melaleuca Alternifolia which out of the 110 different varieties of tea tree oil, has been proven to contain the most beneficial natural properties for healthy skin and hair. It is well known for its natural antibacterial, antiseptic, anti-fungal and anti-viral properties.
Australian Bodycare is a professional brand.  They produce a range of skin and hair care products for personal and professional use to help with skin problems and to maintain healthy hair and body.  These products are available in 5000 salons in the UK alone and in recent years has become more widely available online.
Australian Bodycare Tea Tree Oil Skin Wash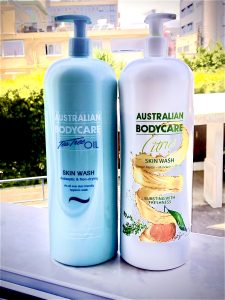 Australian Bodycare Tea Tree Oil Skin Wash is a gentle antiseptic hand, face and body wash for everyday use that protects the skin from bacteria and leaves it fresh and hygienically clean. It has a non-drying formula, making it suitable for everyday use for all the family.
Tea Tree Oil Skin Wash by Australian Bodycare leaves all skin types feeling refreshingly fresh and clean.  This super skin wash is a top-rated product and works to help cleanse blocked pores and remove dirt, sweat and excess oil, while helping to maintain the natural balance of your skin.
Key Ingredient
The key ingredient in this skin was is Melaleuca Alternifolia and has been used as an alternative medicinal treatment for almost a century in Australia. Known as the "healing-tree", Australian Bodycare take the first pressing of the oil from the leaf (not from the bark or the twigs which would lessen the potency) providing all the antibacterial properties which is what makes the whole range so effective.
Australian Bodycare Tea Tree Oil Skin Wash – Original
Released 24 years ago,  this top-rated, bestselling body and face wash, infused with 2% tea tree oil and glycerin, and developed to be suitable for everyday use. It features a handy lockable pump for those of us who have little wandering hands. This can be used on a daily basis to help clear blemish, spot prone or odorous skin, or used regularly on all skin types to maintain skin health and purity. Ideal for teenagers going through adolescent skin worries, perfect for menopausal women, a real skin soother for the less-abled, perfect for the after sports shower and the ideal product to sit comfortably in any bathroom with other skin care ranges.
I use this as my first in-shower product; I can literally feel my skin and mind being thoroughly cleansed and then continue with my Molton Brown or L'Occitane shower products.
What Does it Smell Like?
It smells like tea tree! It has an astringent, camphor, medicinal smell. I love it but I appreciate it is not liked by all.  For those that are unsure about the smell, I can assure you that it dissipates quickly and the long-term skin health benefits are worth it.
Australian Bodycare Citrus Skin Wash
Released 18 months ago, this features a beautifully bright lemon, lime and orange scent, combined with the classic, cleansing Skin Wash formula.  It is revitalizing and uplifting; perfect for first thing in the morning or after the gym.  This is infused with the fragrance of mandarin, orange peel oils and Australian lemon myrtle extract. Add a zesty kick to your daily cleansing ritual with this soothing formula.  A great alternative if fresh smelling tea tree is not your thing.
Australian Bodycare French Lavender Skin Wash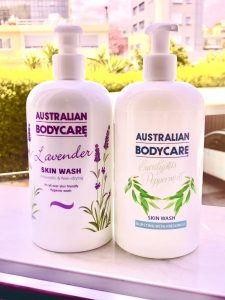 Another new scent-on-the-block, this French lavender and tea tree oil infused body wash is the perfect evening shower partner.  Out of all three skin washes, this wash has the highest amount of essential oils which makes the soothing scent of lavender linger, relaxing body and mind.
Australian Bodycare Eucalyptus & Peppermint Skin Wash
This Australian Bodycare Skin wash formula is enriched with revitalising eucalyptus and peppermint extracts.  It gives the skin a beautiful herbal smelling deep clean.
My Opinion
I have used the original skin wash for almost 20 years.  It is a staple in my bathroom and it delivers skin health and balance.  I use the original on my face and body and I use it to clean my makeup brushes.  The other fragrances, I keep just for the body; I use the Citrus after the gym and the Lavender in the evening. However, the Eucalyptus & Peppermint is by far my least favourite scent.  I ended up using it as a hand wash and to clean my makeup brushes.
When I use these skin washes, I feel clean and comforted knowing that all surface bacteria has gone. All four are an antiseptic hand & body wash for perfect hygiene everyday and protects against spot causing bacteria. Perfect for the whole family.
Ingredients
Aqua, Sodium Laureth Sulfate, Coco-betaine, Melaleuca Alternifolia (2%), Sodium Chloride, Phenoxyethanol, Citris Acid, Methylparaben, Ethylparaben, Limonene, Propylparaben, Ci 75810/75815.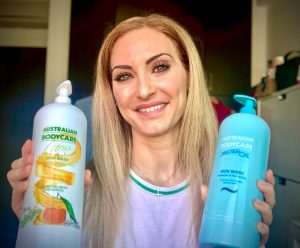 Where to Buy
I buy my litre skin wash from QVC UK for £34.00 P&P: £2.95.
To explore the Australian Bodycare range, visit Feel Unique or Australian Bodycare UK.
If you have any questions or would like to share your experience, please send me a message.