Today, I would like to share with you another skincare hero of mine, it is the SBC Propolis Skincare Gel.  Last year, I introduced you to their Collagen range which is still a firm favourite, and yet, at this time of year, I am repeatedly reaching for Propolis.
What Is Propolis?
Propolis is the "bee glue" that protects and holds together the hive but this sticky substance has many health benefits as well!
Propolis is thought to have antibacterial, antiviral, antifungal, and anti-inflammatory properties and appears to provide protection from some bacteria, viruses, and fungi.  More than 300 compounds in propolis have been identified and the majority of these compounds are forms of polyphenols. Polyphenols are antioxidants that fight disease and repair damage in the body.  Propolis, specifically contains the polyphenols called flavonoids. Flavonoids are produced in plants as a form of protection. They're commonly found in foods thought to have antioxidant properties, including: fruits, green tea, vegetables and red wine.
SBC Propolis Skincare Gel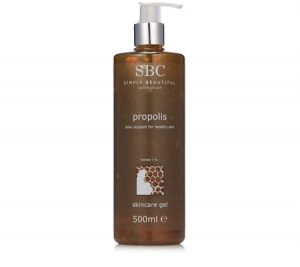 Preserve, protect and repair skin with SBC's Propolis Skincare Gel, for healthy-looking skin that feels as good as it looks. This skincare gel is infused with natural propolis to care for your skin and nurture stressed or sensitive skin. It is a light weight, water-based gel which absorbs effortlessly into the skin, and can be used on the face and body. Versatile and easy to apply, it can be used as a mask or primer, as well as a face and body moisturiser. Absorbs quickly for instant hydration. Recommended for all skin types, including skin with minor complaints and is beneficial for sensitive skin.  It smells divine, a woody base is always a winner with me.
Main Benefits:
Naturally enriched with antioxidant properties, the Propolis Skincare Gel helps combat many of the environmental stresses that we are exposed to every day, while an abundance of vitamins, amino-acids and minerals nourish the skin.
The Gel is formulated to soothe and moisturise while reducing issues associated with sensitive, problematic, dry and hypersensitive skin.
It also helps to desensitise and calm very sensitive skin and strengthens fragile skin by reinforcing skin's natural barrier.
This Skincare Gel is formulated with Glycerin to work with Propolis to help lock in moisture.
Provides relief for dry and dull skin as it helps to restore moisture and hydration by reducing water evaporation.
Offering balanced, lightweight hydration, this is the ideal way to keep skin nourished and moisturised without clogging pores.
Leaves skin feeling soft, supple and healthy-looking.
Study Results from SBC: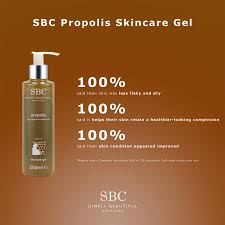 – 100% noticed their skin was less dry and flaky
– 100% felt that the product helps retain a healthier-looking complexion
– 100% felt the condition of their skin appeared improved
– 100% reported that they would recommend to a friend
(Results from a perception study of 120 consumers)
How To Use
Scalp – Massage into itchy, flaky scalp at night and brush out in the morning
Hormonal Skin – Sweep over the forehead, t-zone and across the jaw line.  I also like to apply a thick layer on my skin when I am feeling particularly stressed.
For teenage and problematic skin, apply to any areas of breakouts and can be applied to the chest and back.
Heat rash – apply a thick layer and allow to absorb.
Cracked heels – massage into the feet to help soothe and hydrate.
Cuticles and nails – apply to hands and feet.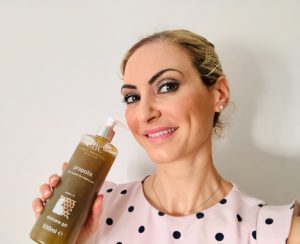 Top Tip
This summer season, keep your SBC Propolis Skincare Gel in the fridge; feel instant relief and peace of mind that skin will be calmed and hydrated.
In Limassol, you will find SBC products at Buffer 22 Beauty Lounge – https://www.facebook.com/Buffertwentytwo/
For more information on your closest salon, please contact XT Essentials – https://www.facebook.com/XTESSENTIALS/ 
If you have any questions, please ask in the comments section below or send me a message.