Alpha-H Essential Hydration Concentrate
A 'Hug in a Bottle' for Our Skin
My skin has been very topsy-turvy recently post-partum and has become quite sensitive and dehydrated over these hot summer months.  My usual skincare is not enough so the quest has been on to try new brands and formulas to restore order once again to my skin. I am sure I am not the only one experiencing the same at the moment.
Skin Reactivity
Sensitive skin has different profiles. Intolerant, red, dry or dehydrated skin can, in fact, be sensitive. They have one thing in common: the skin is hyper-reactive to certain factors. Sensitive skin is not necessarily allergenic skin but it can at times appear like a reaction on the skin. Sensitive skin is naturally vulnerable to outside attacks, which it can react to. This perfectly describes my skin at the moment and can appear like prickly heat, skin tightness, itchiness, heat discomfort and/or burning sensations, sometimes combined with redness.
Skin sensitivity that typically appears at this time of year, tends to be environmentally caused by heat, cold, wind, sun or even sudden changes in temperature and atmospheric pollution.
Alpha-H Essential Hydration Concentrate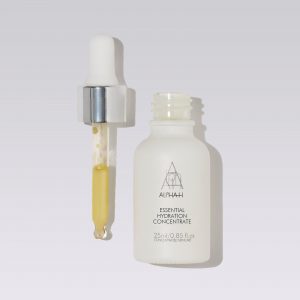 Essential Hydration Concentrate is a replenishing, preventative oil which re-stabilizes the lipid barrier, this is important as it preserves the integrity of the skin's matrix. When our skin's matrix (or stratum corneum) is out of balance, it very quickly shows on our skin.  A healthy skin barrier helps prevent moisture loss, which is vital for homeostasis and healthy skin.  This product from Alpha-H is like a 'hug in a bottle' for dry, mature, stressed, sensitive and sun-damaged skin.  This soothing treatment oil helps heal the skin and preserves its delicate balance; enriched with nine nurturing plant oils (rich in vitamins and phytonutrients) it helps to inhibit oxidative damage and delay the onset of premature ageing.
Key Benefits
Soothes and repairs dry, mature, stressed and sun-damaged skin
Repairs cell damage, diminishes signs of ageing
Rehydrates stressed, abused skin
A "hug in a bottle" for damaged, chapped, fragile, dehydrated skin
Alleviates discomfort, redness, irritation on super sensitive skins
No chemical preservatives, fragrances or binders
Key Ingredients
Carrot oil, wheatgerm oil, calendula oil, lavender oil, apricot oil, rosehip oil, avocado oil, geranium oil, olive fruit oil, and vitamin ABCDE complex.
Please note that this product is not suitable for pregnant or breastfeeding women due to its vitamin A content.
How To Use
Warm three to four drops between your palms and massage gently over freshly cleansed face, neck and décolletage each morning or night. Alternatively, blend the three to four drops into your day or night cream or even into your body cream, as required.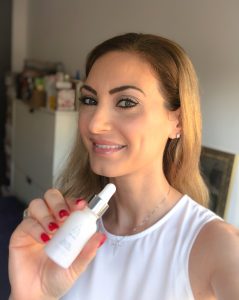 My Opinion
The Alpha-H Essential Hydration Concentrate is ideal for use during periods of seasonal change.  It has really helped heal, calm and soothe my skin.  The synergy of the nourishing oils contained has really helped to boost my skin's moisture levels, nurture it through the change and I saw a difference in a matter of days.
Where To Buy?
Unfortunately, Alpha-H is not available in Cyprus yet but is available online from the following websites:
Bath & Unwind €32.69
QVC UK £20.96
Cult Beauty £29.99
Alpha-H €35.00
If you have any questions, please send me a message.